Lake Forest College Sports Information
Contact: Mike Wajerski, SID
2002-03 Preview: The Next Step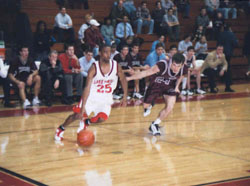 Fred Bell and the rest of the Foresters hope to blow by the competition in 2002-03.

LAKE FOREST, IL - In the fall of 1999, a group of talented freshmen enrolled at Lake Forest College and sparked the men's basketball team to a perfect 16-0 Midwest Conference record. Now, as those freshmen enter their senior season, they would like to go out the way they came in - as champions.

A second conference title is not all this year's Foresters will be shooting for as they look to add a berth in the NCAA tournament to their résumé. Head coach Chris Conger expects two-time all-conference guards Fred Bell and Lee Taylor to lead the way in pursuit of that goal. "Lee and Fred are great players who are perfect compliments to one another," he states. "They have become real students of the game during their time at Lake Forest and I believe their understanding of basketball is as complete as any tandem we will face." Conger will also look for veteran leadership from fellow seniors Brian Hastings and Tim Andris. "To have a successful program, you need your seniors to show the underclassmen what it is going to take. Brian and Tim's leadership is going to be a key part of this team's success."

In addition to the seniors, sophomore all-conference forward Eric McDonald brings great versatility to the Forester offense. According to Conger, "Eric had a solid freshman year, but this year we will be counting on him to be a consistent force on both ends of the floor every minute of the game."

Expectations are also extremely high for Conger's most touted freshman class. "The freshmen should provide us with the tools to take our program to another level. They all have great potential as well as a genuine love for the game. If they are able to grasp what we are trying to accomplish, put in an extraordinary amount of effort, and learn to function as a single unit, the sky is the limit for this group."

With a healthy mixture of veterans and talented young players, the 2002-03 Foresters are poised to make another run at a conference title and continue their trek toward success at the national level. Conger adds, "Our seniors have helped us become one of the best programs in the conference. We're looking for this year's team to help Lake Forest climb the national rankings and contend for NCAA Championships."

---