Lake Forest College Sports Information
Contact: Mike Wajerski, SID
2003-04 Preview: Return to the Elite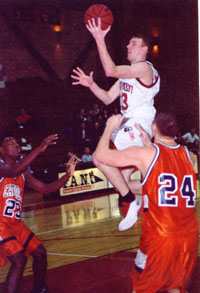 Eric McDonald is determined to lead the Forester's far this season in all facets of the game.

LAKE FOREST, IL - Heading into the 2002-2003 season with four returning players Lake Forest was definitely an unknown. After opening the season with two overtime losses the Foresters gradually gained momentum and by midseason the Foresters were starting to hit their stride. They won six of nine games and climbed back into the race for one of the four spots in the Midwest Conference Tournament. Although the Foresters fell short in the final game of the season, head coach Chris Conger is still excited about the late-season run and is optimistic about the 2003-2004 season.

"Every year our goal is to become the best team we can. While I was disappointed with the start of our season, I was very pleased with our mental toughness and ability to turn the season around. The group of student-athletes who graduated last year were able to teach our younger players a lot and I believe with the wisdom and experience we gained last year we should be returning to one of the nation's elite teams."

Much of the Foresters success this year will depend on junior all-conference forward Eric McDonald. McDonald has led the Foresters in scoring in each of his first two years, but Conger has a different idea for McDonald's role this season. "Our success this year will be greatly determined by Eric McDonald. However it will not be his scoring that will determine our success. Eric needs to focus on being a great defender and rebounder allowing him to excel in all facets of the game. His biggest impact on this team will be his leadership. We will only go as far as Eric can lead us."

In addition to McDonald, Lake Forest boasts a very talented sophomore class. Franklyn Beckford, Maurice Smith, and Greg Klos headed this class last year. All three logged significant minutes. Conger comments "Franklyn, Maurice and Greg all went through a very steep learning curve last year. We will need them to continue to improve. Also look for Brad Rathe, Carl Davies, and Dodd Browning to increase their minutes. Carl and Brad had great off seasons, and Dodd is a talented player who is learning the intricacies of the college game."

While the team plays a competitive and grueling 16-game conference schedule, Conger has also scheduled some non-conference powerhouses. The schedule features Benedictine, Carthage, University of Chicago and Lakeland. All four have won their conference at least once in the last three seasons. In addition to playing the previous conference champions, the Foresters will also play North Park, a team with as much tradition of success as any in the country. "I believe we are ready to return to the nation's elite," explains Conger. "In order for us to reach our potential we must test ourselves against some other elite programs."
---