Lake Forest College Sports Information
Contact: Mike Wajerski, SID
2005-06 Preview: Senior Special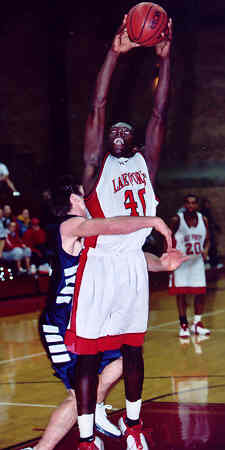 Franklyn Beckford won't let anything hold him or his team down this season.

LAKE FOREST, IL - With only one player graduating from a squad that reached the four-team Midwest Conference Tournament each of the last two years, Lake Forest College Head Men's Basketball Coach Chris Conger is extremely excited about the 2005-06 season. "Every once in a while a group of talented players enters your program as freshmen and, for four seasons, they put their hearts into making both themselves and the team better," he begins. "Our senior class is a very special group that has a chance to make history at Lake Forest College."

Highlighting the class is forward Franklyn Beckford, who enters his senior season just 19 points shy of 1,000 in his career. The two-time all conference performer led the team in scoring and rebounding each of the last two years. In addition, his .632 field goal percentage in 2004-05 tied the school record and ranked ninth in the country.

Beckford's success on the inside is made possible by the perimeter scoring of classmates Greg Klos and Dodd Browning, who both shot 40% from beyond the arc last season and were the third- and fourth-leading scorers on the team, respectively. Klos knocked down 72 three-pointers, the second-highest single-season total in school history. "I really like our mix of aggressive post players, guys that can drive to the basket, and outside shooters," comments Conger. "It enables us to have success against anyone because it is so difficult to stop all three facets of our offense at once."

While Conger's comments describe Beckford, Klos and Browning, they also apply to his other three seniors, Brad Rathe, Henry Wimp, and Adesina Benton. Rathe's 6.6 points per game came from both inside and out, Wimp backed up Beckford while connecting on a remarkable 68% of his field goal attempts and Benton shot 12-for-16 from three-point range and was second on the team in steals.

Add junior Brad Wehner who led the squad in assists last year, and a few other talented returners, and the team is capable of once again challenging for the conference championship and, perhaps, making some noise in the NCAA Tournament. "Our depth allows us to continue the up-tempo style of play that has made us so successful in the past," Conger concluded.



---