Lake Forest College Sports Information
December 11th, 2001
Contact: Mike Wajerski, SID
Foresters Fall to the University of Chicago, 79-68
Bell, Bruha and McDonald each score 14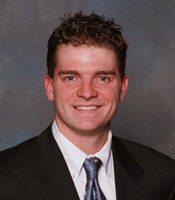 Brian Bruha came off the bench to score 14 points on Tuesday.

LAKE FOREST, IL - The University of Chicago showed why it was the nation's third-ranked men's basketball team (d3hoops.com) in a preseason poll by defeating Lake Forest College Tuesday (December 11th) evening by a score of 79-68. The loss drops the Foresters' record to 5-4 going into their winter break.

Junior guard Fred Bell (Mequon, WI/Homestead), senior guard Brian Bruha (Hillsboro, WI/ Hillsboro) and freshman forward Eric McDonald (Elk Grove, IL/Elk Grove) each scored 14 points to lead Lake Forest. The trio combined to shoot 16-of-27 from the field, including 4-of-10 from three-point range. McDonald also pulled down a game-high seven rebounds and added a pair of steals.

Junior guard Lee Taylor (Sheldon, IA/Sheldon) added 13 points, five rebounds and three assists.

Both teams took good care of the ball, combining for just 19 turnovers. The Foresters out-rebounded the Maroons 36-29 but were out-shot from the field 48.2% to 42.6%. Lake Forest was shooting 33% from three-point range entering the game but connected on just 6 of 24 attempts (25%) on Tuesday.

Chicago made 9-of-18 three-pointers in the first half to open up a 10-point halftime lead (48-38). The margin was 11 points with 17 minutes to play when the Foresters went on a 14-2 run to take a one-point lead (56-55), their first since the score was 4-3. That was the last time the home team would be ahead, though, as Chicago scored seven straight points and allowed Lake Forest to get no closer than three the rest of the way.

The Foresters will not play another game until January 5th, when they travel to Knox College for a Midwest Conference match-up. Lake Forest is 5-4 overall on the season and 2-0 in league games.
---