Lake Forest College Sports Information
December 11, 2007
Contact: Mike Wajerski, SID
Lake Forest Closes Out 2007 with Victory at Dominican
Hoyt Rees leads the team with 15 point and 11 rebounds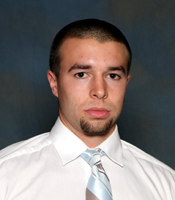 Hoyt Rees

RIVER FOREST, Ill. - The Forester men's basketball team won 60-50 at Dominican University Tuesday night (December 11) in the squad's final game of 2007. Lake Forest enters the semester break with a 4-4 record while Dominican fell to 3-5.

Sophomore Hoyt Rees (Yorkville, Ill./Yorkville) led the Foresters with 15 points and a career-high 11 rebounds and added three assists and a pair of steals. It was his second career double-double. Sophomore guard Victor Campbell (Milwaukee, Wis./Wisconsin Lutheran) and senior forward Laird Walker (Chicago, Ill./Whitney M. Young Magnet) also reached double figures with 13 and 12 points, respectively. They combined to shoot 11-for-17 from the field and pulled down 11 rebounds.

Lake Forest shot 46.9 percent from the field, 1-for-5 from three-point range, and 13-for-20 from the free throw line. The Stars connected on 40.4 percent of their field goal attempts but shot just 1-for-19 from beyond the arc. The home team also knocked down seven of nine shots from the charity stripe. The Foresters held a 37-24 edge in rebounds and committed 17 of the game's 31 turnovers.

The Foresters scored the first six points of the contest and led throughout. The margin reached 10 points late in the first half, which ended with the visitors leading 29-21. Dominican trimmed the difference to six points four times early in the second half but would get no closer. An 11-3 Forester run gave Lake Forest its largest lead of the game (48-34) with less than six minutes to play. The Stars pulled to within seven points (53-46) with 2:37 left but scored just two more baskets the rest of the way.

Lake Forest's next game is on Friday, January 4, at Illinois Institute of Technology at 7:00 p.m. The Foresters will resume Midwest Conference play the following Tuesday night (January 8) at Monmouth College and not play a home game until January 25.
---