Lake Forest College Sports Information
December 1st, 2001
Contact: Mike Wajerski, SID
Foresters Fall to M.S.O.E. at U.S. Cellular Arena
McDonald's 24 points are a Forester season-high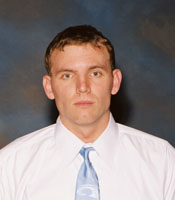 Eric McDonald scored 24 points on Saturday.

MILWAUKEE, WI - Despite a breakout game by freshman forward Eric McDonald (Elk Grove, IL/Elk Grove), the Forester men's basketball team was defeated by the Milwaukee School of Engineering Saturday (December 1st) by a score of 72-67. The game was played at U.S. Cellular Arena in Milwaukee, Wisconsin, former home of the Milwaukee Bucks.

McDonald shot 9-for-14 from the field en route to a 24-point performance, the highest single-game total for a Forester this season. He is now averaging 11.0 points per game, placing him third on the team, just behind junior guards Lee Taylor (Sheldon, IA/Sheldon) and Fred Bell (Mequon, WI/Homestead), who are tied at 11.5. Both Taylor and Bell scored 10 points on Saturday.

After a low-scoring first half, Lake Forest led 24-23. After intermission, though, the Raiders shot 16-for-28 from the field (57.1%) to pull away from the Foresters, who finished the game with just one made three-pointer in 20 attempts. Prior to Saturday's game, Lake Forest was shooting 36% from long range and making an average of 9.2 three-point baskets per game.

The Foresters' are now 3-3 on the season and will begin their Midwest Conference schedule on Wednesday (December 5th) when they host Monmouth College at 7:00 pm.
---