Lake Forest College Sports Information
December 13th, 2001
Contact: Mike Wajerski, SID
Eric McDonald Named Forester Athlete of the Week
Freshman set school record with 50 points in a single game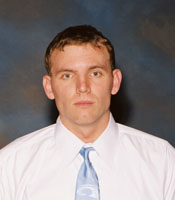 Eric McDonald scored 50 points at Grinnell on Saturday.

LAKE FOREST, IL - Lake Forest College men's basketball player Eric McDonald (Elk Grove, IL/Elk Grove) was named the Forester Athlete of the Week for his performance in the team's two games in the last seven days.

In Saturday's (December 8th) 140-135 overtime win at Grinnell College, the Foresters set a school record for points scored and McDonald broke the program's 45-year-old individual scoring record with 50 points. He shot 20-for-22 from the field and led the team with 13 rebounds.

In Tuesday's (December 11th) 79-68 loss to the University of Chicago, McDonald pulled down a game-high seven rebounds and tied for the team-lead in scoring with 14 points.

The Forester Athlete of the Week is chosen by the Athletic Department on Thursdays.

---