Lake Forest College Sports Information
December 17, 2005
Contact: Mike Wajerski, SID
Foresters Lead Early, Stay Close to Division I Loyola
Team shoots 57.4% from the field in the game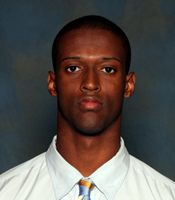 Laird Walker's 11 points were one more than he scored in his first six games combined.

CHICAGO, IL - The Lake Forest College men's basketball team dropped an 87-72 decision at NCAA Division I Loyola University Saturday (December 17) afternoon. The Foresters fell to 3-5 on the season while the Ramblers raised their record to 7-1.

Junior Brad Wehner (Sheboygan, WI/Sheboygan North) and seniors Brad Rathe (Deer Park, IL/Lake Zurich) and Franklyn Beckford (Jacksonville, IL/Jacksonville) tied for team-high honors with 12 points apiece. Wehner and Beckford also led the squad with five assists and seven rebounds, respectively. Sophomore Laird Walker (Chicago, IL/Whitney M. Young Magnet) was next on the team with 11 points and he added a pair of blocked shots. The four players combined to shoot 21-of-27 from the field and 4-for-7 from three-point range in the contest.

The Foresters shot 57.4% from the floor in the game and 9-for-22 from beyond the arc. Loyola posted a 51.6% shooting percentage in the contest, knocked down 13 of 25 three-point attempts, and outscored their guests 10-1 from the foul line. The Ramblers also held a 31-24 edge in rebounds and committed just four turnovers while forcing 10 Lake Forest miscues.

Loyola scored the game's first points on a three-pointer, but a long-range shot by senior Greg Klos (Carol Stream, IL/Glenbard North) gave the visitors a 9-7 lead less than four-and-a-half minutes into the contest. With the score tied at 12, the Foresters pulled away with an 11-4 run to take a 23-16 advantage, their largest lead of the game. The home team rattled off eight straight points to regain the lead, which changed hands a dozen times in the first half, including seven consecutive possessions late in the period. A pair of Loyola free throws with 4:10 left before intermission tied the score at 33 and Lake Forest would not lead again. The visitors trailed 42-38 at halftime, despite having shot 62.5% from the field and 7-for-11 from three-point range.

The Foresters trimmed the margin to two points twice early in the second half and were behind by just three (54-51) with 13 minutes to play. A 13-4 Loyola run gave the home team a 12-point advantage but seven points in a row from the visitors made it a five-point game (69-64) with 6:53 remaining. Lake Forest would get no closer, however, and the Ramblers scored the game's final seven points.

Lake Forest will travel to Augustana College on Monday (December 19) for a 7:30 p.m. tip-off. It will be the Foresters' final game of the fall semester.
---