Lake Forest College Sports Information
December 19, 2005
Contact: Mike Wajerski, SID
Lake Forest Falls to Nation's 13th-Ranked Team
Foresters close out first semester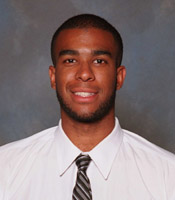 Henry Wimp scored a season-high 10 points on Monday.

ROCK ISLAND, IL - The Forester men's basketball team was defeated 64-45 at Augustana College Monday (December 19) night. Lake Forest fell to 3-6 on the season while Augustana, the nation's 13th-ranked team, remained unbeaten at 8-0.

Senior forwards Franklyn Beckford (Jacksonville, IL/Jacksonville) and Henry Wimp (Chicago, IL/DeLaSalle) led the visitors with 10 points apiece. Wimp shot 5-for-6 from the field and Beckford added a game-high nine rebounds.

The Foresters shot 39.6% from the floor while the Vikings knocked down 43.5% of their field goal attempts. Lake Forest was also 3-for-13 from three-point range and 4-for-9 from the free throw line. Augustana made three of six three-pointers and shot 21-for-25 from the foul line. Both teams pulled down 30 rebounds and the Foresters committed eight more turnovers (19) than the home team (11).

Lake Forest scored the game's first basket for its only lead of the contest. Augustana scored eight straight points later in the first half to take a 19-7 lead. The Foresters responded with six in a row but a 7-0 Viking run extended the margin to 13 points. Beckford's basket with seven seconds left in the period made the score 26-15 at intermission.

Augustana scored the first six points of the second half and led by as many as 23. The Foresters pulled to within 15 points (47-32) with 10 minutes to play but would get no closer.

It was the final game of the first semester for Lake Forest and the team's last non-Midwest Conference contest of the 2005-06 regular season. The Foresters (1-1 MWC record) will resume league play on Saturday, January 7, at 4:00 p.m. against Monmouth College.
---