Lake Forest College Sports Information
December 3, 2003
Contact: Mike Wajerski, SID
Lake Forest Edges Out Knox in League Opener
Foresters shoot 53% from the floor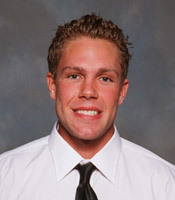 Dodd Browning scored a career-high 12 points.

LAKE FOREST, IL - The Forester men's basketball team began Midwest Conference play with a 65-63 victory at home over Knox College Wednesday (December 3) night. Lake Forest raised its record on the season to 2-3 and handed the Prairie Fire their first loss in three games.

Sophomore guard Greg Klos (Carol Stream, IL/Glenbard North) led the Foresters in scoring for the third time in the last four games. His game-high 17 points came on 7-of-12 shooting from the field, including a 3-of-5 performance from three-point range. Sophomore forward Franklyn Beckford (Jacksonville, IL/Jacksonville) scored 15 points on 6-of-9 shooting and pulled down a game-high eight boards. He has led the team in rebounds in all five games so far this season. Junior forward Eric McDonald (Elk Grove, IL/Elk Grove) and sophomore guard Dodd Browning (Champaign, IL/Central) each scored 12 points and McDonald led the squad with four assists.

Lake Forest shot 53.3% in the game from the floor while Knox made 43.9% of its field goal attempts. The Foresters outscored the Prairie Fire 11-5 from the free throw line and held a 28-27 edge in rebounds.

The home team made its first six shots from the field and jumped out to a 14-2 lead in the game's first three-and-a-half minutes. The lead grew to as many as 14 points (25-11) and the Foresters led 33-20 with five-and-a-half minutes left in the first half. Knox, however, scored ten straight points and trailed by just four (36-32) at halftime.

After scoring the first four points of the second half, Lake Forest was outscored 22-7 over the next six minute. Knox led 58-51 with 9:32 remaining but scored just two more baskets the rest of the way, a field goal with 4:56 to play and a three-pointer with 17 second left. The Foresters had five different players score a total of 14 points during that span to clinch the win.

Lake Forest will play its only other league game of the semester on Saturday (December 6) at Grinnell College. Tip-off is scheduled for 3:00 p.m. The team will also host North Park University on Tuesday (December 9) night at 7:00 and will play at Benedictine University on December 19.
---