Lake Forest College Sports Information
December 4, 2002
Contact: Mike Wajerski, SID
Foresters Defeat Previously Unbeaten Benedictine at Home
Andris sets career-highs in both points and rebounds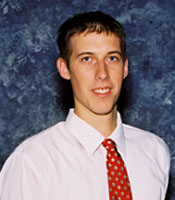 Tim Andris scored 20 points and added 9 rebounds. Both marks are new career highs.

LAKE FOREST, IL - The Lake Forest College men's basketball team got its first win of the season Wednesday (December 4) at home against Benedictine University. The final score was 79-68. The Foresters are now 1-3 while the Eagles' record falls to 4-1.

A pair of forwards, senior Tim Andris (Port Washington, WI/Port Washington) and sophomore Eric McDonald (Elk Grove, IL/Elk Grove), accounted for more than half of the Foresters' offensive output. Andris shot 6-of-7 from the floor, including 5-of-6 from three-point range, and set new career-highs with 20 points and nine rebounds. McDonald scored a game-high 22 points and added three blocked shots and four steals. He leads the 2002-03 team with 20.0 points and 7.0 rebounds per game.

Senior Fred Bell (Mequon, WI/Homestead) played and efficient game from the point guard position. Bell scored nine points on 4-for-6 shooting from the field, pulled down four rebounds, dished out a game-high eight assists, added a pair of steals, and turned the ball over just once in 32 minutes of play.

The Foresters posted season-highs in field goal percentage, both overall (51.9) and from beyond the three-point arc (47.6). Benedictine was held to 35.4% shooting overall and just 28.0% from long-range.

Lake Forest outscored its guests 25-10 in the game's first eight minutes. After Benedictine closed the gap to 29-18, a 12-2 Forester run gave the home team its biggest lead of the game at 41-20. The teams went into the locker room for halftime with Lake Forest ahead, 43-28.

The Foresters took their lead back up to 20 points (52-32) early in the second period before an 18-7 run by Benedictine cut the margin to nine (59-50) with nine minutes remaining. The Eagles would get no closer, however, as Lake Forest seemed to answer each Eagle basket with one of its own. A McDonald jumper with four minutes left and an Andris three-pointer on the team's next possession extended the lead to 16 points (75-59) and put the game out of reach.

The next game for the Foresters will be their Midwest Conference opener against Grinnell College on Saturday (December 7) at 1:00 p.m. It will be the Foresters' final contest of the fall semester.
---