Lake Forest College Sports Information
December 5th, 2001
Contact: Mike Wajerski, SID
Lake Forest Comes From Behind to Defeat Monmouth at Home
Foresters' 23-5 run in second half propels team to 75-65 victory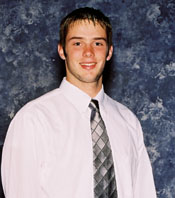 Lee Taylor scored a game-high 17 points and set a new career best with 15 rebounds.

LAKE FOREST, IL - The Lake Forest College men's basketball team defeated Monmouth College Wednesday (December 5th) evening by a score of 75-65. It was the Midwest Conference opener for both teams. The Foresters are now 4-3 overall this season and the Fighting Scots' record falls to 1-4.

Junior guard Lee Taylor (Sheldon, IA/Sheldon) recorded game-highs in both points (17) and rebounds (15). It was his second double-double of the season and the rebound total is the highest of his collegiate career. He shot 7-of-13 from the field and added four assists and three steals.

Freshman forward Eric McDonald (Elk Grove, IL/Elk Grove) scored 15 for the Foresters and junior guard Fred Bell (Mequon, WI/Homestead) chipped in 10.

Lake Forest shot just 41.8% from the field but held Monmouth to 36.2%. The Foresters also out-rebounded the Fighting Scots 48-40.

Monmouth's Kenny Spranger scored with 15:18 to play in the first half to give the Scots an 11-9 advantage. That lead would fluctuate between one and five points for the rest of the period, which ended with the Foresters trailing 33-29.

Monmouth led by as many as six points on four different occasions early in the second half and by five points with 13:15 to play in the game. Three baskets by Taylor and a three-pointer by freshman forward Adam Eichstedt (Lomira, WI/Lomira) in the next two-and-a-half minutes gave the home team a lead they would never relinquish. By the 6:37 mark, Lake Forest had gone on a 23-5 run and opened up a commanding 13-point lead (62-49). The Scots cut the margin to six with 33 seconds to play before the Foresters scored the game's final four points to seal the victory.

Lake Forest will travel to Grinnell College on Saturday (December 8th) for a 3:00 PM game against the defending conference champions. The Foresters and Pioneers split the season series last year, with each team winning on its home court.
---