Lake Forest College Sports Information
December 5, 2007
Contact: Mike Wajerski, SID
Foresters Defeat Previously Unbeaten North Central at Home
Victor Campbell leads the team with a career-high 21 points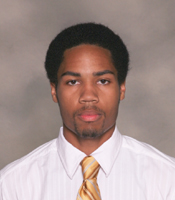 Victor Campbell

LAKE FOREST, Ill. - The Lake Forest College men's basketball team hosted and defeated North Central College 67-58 Wednesday night (December 5). The Foresters are now 3-4 on the season while the Cardinals suffered their first loss in six games this year.

Sophomore guard Victor Campbell (Milwaukee, Wis./Wisconsin Lutheran) came off the bench to lead the home team with a career-high 21 points. Campbell shot 6-for-11 from the field, 2-for-4 from three-point range, and 7-for-10 from the foul line. He also added five rebounds and a pair of assists. Junior guard Jeremy Beyersdorf (Neenah, Wis./Fox Valley Lutheran) was next on the team with 14 points and senior forward Laird Walker (Chicago, Ill./Whitney M. Young Magnet) recorded his second double-double of the season with 10 points and 13 rebounds. He also blocked three shots in the contest.

Lake Forest shot 42 percent from the field, 4-for-14 from three-point range, and 21-for-30 from the free throw line. North Central connected on 38.8 percent of their field goal attempts, including five of 15 from beyond the arc, and shot 15-for-22 from the line. The Foresters held a 38-31 edge in rebounds and committed just 11 turnovers while forcing 13.

The Cardinals scored the game's first six points in an opening half that included five ties and seven lead changes. Lake Forest took the lead for good on a conventional three-point play by Campbell with 5:28 to play in the period and led 34-29 at halftime.

North Central trimmed the margin to a single point early in the second half but would get no closer. The Foresters had a pair of 6-0 runs to pull ahead by as many as 10 points (54-44). The Cardinals closed to within six points with 47 seconds to play before a free throw by junior guard Matt Desjardins (Peoria, Ill./Richwoods), a tip-in by Walker, and a pair of Campbell free throws put the game out of reach.

The Foresters will close out the 2007 portion of their schedule at Dominican University next Tuesday (December 11). The game is scheduled to begin at 9:00 p.m.
---