Lake Forest College Sports Information
December 6, 2003
Contact: Mike Wajerski, SID
Foresters are 1-1 in MWC After Falling at Grinnell
Beckford scores 38 points and adds 10 rebounds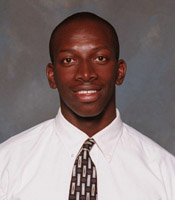 Franklyn Beckford had 38 points and 10 rebounds.

GRINNELL, IA - The Lake Forest College men's basketball team dropped a 119-103 decision at Grinnell College on Saturday (December 6). The Foresters fell to 2-4 overall and 1-1 in Midwest Conference play while the Pioneers raised their overall record to 4-0 in their first league game.

Sophomore forward Franklyn Beckford (Jacksonville, IL/Jacksonville) led Lake Forest with 38 points and pulled down a game-high 10 rebounds. He has led all players in rebounds in each of the last five contests. Beckford made 17 of 19 field goal attempts on Saturday, including numerous dunks, and connected on four of five attempts from the free throw line.

Sophomore guard Greg Klos (Carol Stream, IL/Glenbard North) scored 18 points on 7-for-9 shooting from the field, including a 3-for-5 performance from three-point range. Sophomore forward Brad Rathe (Deer Park, IL/Lake Zurich) scored 13 points and led the team with seven assists. Junior forward Eric McDonald (Elk Grove, IL/Elk Grove) added a dozen points on 4-for-5 shooting from the field and played all but one minute in the game.

The Foresters shot 71.9% from the floor and Grinnell 55.7%. Lake Forest made six of ten three-point field goal attempts while Grinnell shot 13-of-37 from long-range. The Pioneers' pressure defense forced 24 Forester turnovers while the home team committed just 10 miscues.

After Lake Forest scored the game's first four points, Grinnell went on an 11-2 run to take the early lead. A 19-4 Pioneer run late in the half extended the margin to 20 points (56-36) with 4:44 left in the half. The Foresters trimmed the lead to 15 points and trailed by as many as 23 before scoring the final four points of the half and going into the locker room with a 74-55 deficit.

A 10-1 Lake Forest run early in the second half cut the lead to 13 points (82-69) with 14:30 to play. The Foresters later used a 10-2 run to pull to within nine points (95-86) with 7:40 left but could get no closer. The lead fluctuated between nine and 15 points until the final minute of the game.

Lake Forest will host North Park University on Tuesday (December 9) at 7:00 p.m. The Foresters will play their final game of 2003 on Friday, December 19, at Benedictine University and will begin the 2004 portion of their schedule at home against the University of Chicago on Sunday, January 4.
---