Lake Forest College Sports Information
December 6, 2005
Contact: Mike Wajerski, SID
Foresters Triumph 66-63 at North Park University
Wehner leads the team with 16 points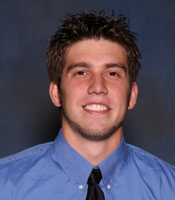 Brad Wehner was the Lake Forest's leading scorer for the second time this season.

CHICAGO, IL - The Lake Forest College men's basketball team won a 66-63 decision at North Park University Tuesday (December 6) night. The Foresters are now 3-4 on the season while the loss dropped the Vikings record to 2-3.

Junior guard Brad Wehner (Sheboygan, WI/Sheboygan North) shot 7-for-9 from the field and led all players with 16 points. He also pulled down five rebounds and dished out three assists. Senior forward Franklyn Beckford (Jacksonville, IL/Jacksonville) was next on the team with 14 points and led the squad with nine rebounds. He was 5-for-8 from the field and made all four of his free throw attempts. Senior guard Greg Klos (Carol Stream, IL/Glenbard North) also reached double figures with 13 points and, with three on the night, he has now knocked down 14 three-pointers in the last three games. Fellow senior guard Adesina Benton (Richton Park, IL/Argo) led the team with five assists.

The Foresters made exactly half of their field goal attempts while North Park shot 47.2%. Lake Forest also shot 7-for-19 from three-point range and 9-for-11 from the foul line. The Vikings were 5-for-16 from beyond the arc and 8-for-11 from the charity stripe. The visitors held a 30-24 edge in rebounds and the teams combined to commit just 17 turnovers.

The teams traded baskets for the vast majority of the first half and the lead changed hands 17 times in the period, which ended with the home team leading 34-32.

Wehner made his only three-point attempt of the game on the first possession of the second half to give the Foresters a lead they would not relinquish. The visitors outscored their hosts 16-5 in the first seven minutes of the period to take a 48-39 lead, their largest advantage of the game. North Park trimmed the margin to four (51-47) with less than seven minutes to play and pulled to within one (62-61) on a three-pointer in the final 30 seconds. Klos and Beckford each made a pair of free throws to foil the comeback bid and seal the victory.

Lake Forest's next game will be at NCAA Division I Loyola University at 2:00 p.m. on Saturday, December 17. The Foresters' final contest of the calendar year will be at Augustana College the following Monday (December 19).
---