Lake Forest College Sports Information
December 7, 2002
Contact: Mike Wajerski, SID
Grinnell Defeats Lake Forest in Midwest Conference Opener
McDonald's success against the Pioneers continues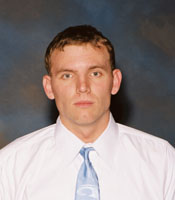 Eric McDonald has averaged 38.7 points and 10 rebounds in three career games against the Grinnell Pioneers.

LAKE FOREST, IL - The Forester men's basketball team was defeated 127-114 by Grinnell College in the Midwest Conference opener for both teams Saturday (December 7) afternoon. Lake Forest's overall record fell to 1-4 while the Pioneers are now 3-1.

Eric McDonald (Elk Grove, IL/Elk Grove) continued to experience success against Grinnell's pressure defense. The sophomore forward scored a team-high 27 points on 9-of-12 shooting from the floor and a perfect 8-for-8 day from the free throw line. He also shared the team-lead with six rebounds. In three career games against the Pioneers, McDonald has 116 points and 30 rebounds.

Five other Foresters also scored in double-figures. Freshman forward Franklyn Beckford (Jacksonville, IL/Jacksonville) tallied 19 points on 9-of-13 shooting, including three dunks. Senior guard Lee Taylor (Sheldon, IA/Sheldon) shot 6-for-8 from both the field and the line to account for his 18 points. He also pulled down six rebounds and dished out a game-high 10 assists. Fellow senior guard Fred Bell (Mequon, WI/Homestead) scored 14 points while freshman guards Maurice Smith (Loves Park, IL/Harlem) and Greg Klos (Carol Stream, IL/Glenbard North) added 15 and 10, respectively.

Lake Forest shot 59.4% (38/64) from the field and a season-high 83.8% (31/37) from the line. Grinnell made 52.2% (47/90) of their field goal attempts, including 41.2% (21/51) from three-point range. The Pioneers also pulled down 22 offensive rebounds and finished the day with 41 boards, six more than the Foresters.

The Pioneers scored the game's first eight points and led by 11 (13-2 after three minutes of play. The lead was 19-8 when the Foresters scored eight straight to pull to within three points with slightly less than 14 minutes to go in the half. Lake Forest trailed by three again (25-22) two minutes later when Grinnell began an 8-point run to take the lead back up to 11. A 13-2 run by the visitors made the margin 16 points (49-33) with less than six minutes left. The difference was 15 points (68-53) at halftime.

The Pioneers led by as many as 26 points early in the second half before Lake Forest began to slowly close the gap. The Foresters pulled to within 12 points on two occasions but could get no closer.

It was the final game of the fall semester for Lake Forest, who will be in action next at the Southwestern University Classic in Georgetown, Texas on December 29-30. The Foresters will take on Trinity University (TX) on the 29th and host Southwestern on the 30th.
---