Lake Forest College Sports Information
December 9, 2003
Contact: Mike Wajerski, SID
Lake Forest Defeats North Park in Overtime Thriller
McDonald scores 36, Beckford records another double-double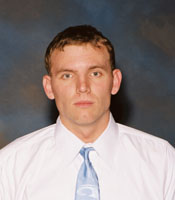 Eric McDonald scored a season-high 36 points.

LAKE FOREST, IL - The Forester men's basketball team got back on track Tuesday (December 9) with an 86-82 overtime win at home over North Park University. The victory improved Lake Forest's record on the year to 3-4 while the Vikings fell to 4-3.

Junior forward Eric McDonald (Elk Grove, IL/Elk Grove) turned in his best game of the season and seemed to take over down the stretch, scoring 25 of his game-high 36 points after halftime. He also added five rebounds and a game-high seven assists. The team's captain shot 12-of-16 from the field.

Freshman guard Brad Wehner (Sheboygan, WI/Sheboygan North) matched his career-high with a dozen points. He scored six of them on a three-pointer late in regulation and another early in the overtime period. Sophomore forward Franklyn Beckford (Jacksonville, IL/Jacksonville) recorded his second straight double-double and third of the year with 11 points and 13 rebounds. It was the sixth straight contest that he pulled down more rebounds than anyone else in the game.

In addition to Wehner's 12 points, the Foresters also got significant contributions off the bench from freshmen Quinton Spencer (Evergreen Park, IL/Brother Rice) and James Cartwright (Lake Forest, IL/Lake Forest). Spencer had five rebounds and four steals in 31 minutes. Cartwright was 4-of-5 from the field and scored a career-high nine points.

Lake Forest's .536 field goal percentage was just slightly higher than North Park's .521. The Foresters also out-rebounded the Vikings 37-32 but committed four more turnovers (17-13).

Lake Forest led by as many as eight points in the first half and took a 30-26 advantage into the locker room at halftime. The teams combined to shoot 41.4% in the game's first 20 minutes.

Both offenses erupted in the second half as the teams' combined field goal percentage was .679 in the period. North Park used an early 11-1 run to take a 41-37 lead. The home team caught up with 8:08 to go in regulation on the first of 11 lead changes down the stretch. The game was also tied six times during that span, including just a moment after the buzzer sounded as a North Park three-pointer tied it at 77.

Lake Forest's defense took over in overtime as North Park shot just 2-for-8. The Foresters knocked down three of five field goal attempts, including a three-pointer, and a pair of free throws to claim the victory.

The Foresters will play their final game of the fall semester at Benedictine University next Friday (December 19) at 7:30 p.m. The team will host the University of Chicago on Sunday, January 4, to open the 2004 portion of its schedule.
---