Lake Forest College Sports Information
February 10, 2007
Contact: Mike Wajerski, SID
Foresters Fall at Grinnell, Remain in MWC Tourney Contention
Victor Campbell leads the team with 15 points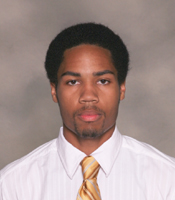 Victor Campbell

GRINNELL, Iowa - The Lake Forest College men's basketball team dropped a 100-65 decision at Grinnell College Saturday (February 10) afternoon. The Foresters fell to 12-9 overall and 8-6 in Midwest Conference games. The Pioneers remain atop the league standings at 15-6 overall and 11-3 in MWC play.

Freshman guard Victor Campbell (Milwaukee, Wis./Wisconsin Lutheran) led Lake Forest with 15 points. He shot 6-for-8 from the field and added five rebounds. Sophomore forward Patrick Hanley (Plainfield, Ill./Plainfield) and freshman forward Hoyt Rees (Yorkville, Ill./Yorkville) also reached double figures with 12 and 10 points, respectively. Junior forward Laird Walker (Chicago, Ill./Whitney M. Young Magnet) pulled down a team-high six rebounds.

The Foresters shot just 43.1 percent from the field, 2-for-10 from three-point range, and 19-for-30 from the free throw line. Grinnell shot 52.2 percent from the floor, made 20 of 43 attempts (46.5%) from beyond the arc, and knocked down 10 of 16 free throws. The Pioneers out-rebounded the visitors 36-34 and Lake Forest committed 17 turnovers while forcing just nine.

Grinnell scored the game's first seven points and jumped out to a 15-4 advantage early in the contest. An 18-4 Pioneer run later in the period extended the margin to 19 points. The home team led by as many as 25 points in the first half and 53-30 at intermission.

The Foresters were unable to close the gap in the second half and the home team led by as many as 40 points late in the game.

Lake Forest is currently tied for fourth place in the conference standings and can clinch a berth in the four-team MWC Tournament with victories in both of next week's games. The Foresters will play at Monmouth College Wednesday (February 14) night at 7:30 and will host Knox College next Saturday (February 17) afternoon at 2:00.
---