Lake Forest College Sports Information
February 11, 2006
Contact: Mike Wajerski, SID
Lake Forest Falls at Monmouth, Splits Season Series with Scots
Klos closes in on 1,000 career points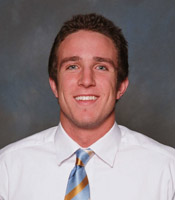 Greg Klos is just three points away from 1,000 in his career.

MONMOUTH, IL - The Forester men's basketball team fell 69-63 at Monmouth College on Saturday (February 11). Lake Forest is now 6-16 overall this season while Monmouth raised its mark to 8-12. Both teams are 4-11 in Midwest Conference play.

Senior guard Greg Klos (Carol Stream, IL/Glenbard North) led the visitors with 18 points, leaving him just three shy of becoming the 18th player in team history to score 1,000 points in his career. He knocked down five three-pointers in the game and added three blocked shots and a pair of steals. Junior guard Brad Wehner (Sheboygan, WI/Sheboygan North) was next on the team with 16 points and led the squad with four assists. He shot 7-for-9 from the field and also recorded seven rebounds and two steals in the contest. Senior forward Franklyn Beckford (Jacksonville, IL/Jacksonville) was 6-for-6 from the floor in a 13-point performance and his eight rebounds led all players from either team.

The Foresters posted a .500 field goal percentage and made exactly one-third of their 24 attempts from three-point range. The visitors also shot 5-for-9 from the free throw line. Monmouth connected on nearly 55% of its field goal attempts and shot 6-for-17 from beyond the arc and 7-for-10 from the foul line. Lake Forest's rebound (30) and turnover (19) totals both exceeded the Fighting Scots' marks by six.

Monmouth scored the game's first five points and had its largest lead of the game at 23-15 with 7:21 remaining in the opening half. The Foresters then rattled off 17 unanswered points in just over five-and-a-half minutes and led 36-27 at halftime.

The Scots closed to within two points twice early in the second half and finally evened the score at 51 with 9:27 left. The teams were tied again at 53 and 56 before the home team scored four straight points to take the lead for good. Lake Forest pulled to within two points three times in the last few minutes of the game but a Monmouth basket and pair of free throws in the final 30 seconds put the game away.

The Foresters will close out the season at home next Saturday (February 18) against Grinnell College. Lake Forest's Senior Day game is scheduled to begin at 3:00 p.m.
---