Lake Forest College Sports Information
February 1st, 2002
Contact: Mike Wajerski, SID
Comeback Bid Falls Short at Ripon
McDonald score 17 in loss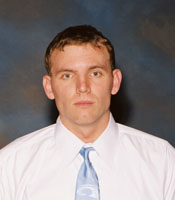 Eric McDonald leads the Foresters with 15.5 ppg.

RIPON, WI - The Lake Forest College men's basketball played an away game at Ripon College Friday (February 1st) night but lost to the Redhawks by a score of 77-69. The Foresters' record is now 9-10 and their Midwest Conference mark is 6-6.

Freshman forward Eric McDonald (Elk Grove, IL/Elk Grove) led the team in scoring for the third straight game with 17 points. McDonald shot 7-of-11 from the floor and made all three of his free throw attempts. He leads the team in scoring this season with an average of 15.5 points per game.

A pair of guards, junior Lee Taylor (Sheldon, IA/Sheldon) and senior Bryan Bertola (Green Bay, WI/Bay Port) also scored in double figures with 13 and 10 points, respectively. Taylor pulled down a team-high eight rebounds as well and dished out three assists. Bertola added a game-high three steals.

Lake Forest, who entered the week with the second-highest field goal percentage in the league, shot 39.7% from the field. It was just the second time in 12 conference games that the team shot less than 40%. The Redhawks connected on 46.0% of their field goal attempts, collected four more rebounds than the Foresters (32-28) and committed three fewer turnovers (17-14).

After six lead changes in the first seven minutes of the game, Ripon went on a 10-0 run to take a 12-point lead (28-16) with five-and-a-half minutes to play in the first half. After the deficit reached 14 points, the Foresters cut it to seven with a 9-2 run before the home team scored the period's final six points to take a 40-27 lead into the locker room for halftime.

A 16-4 second half run by Lake Forest trimmed the margin to just a single basket (48-46) with 11 minutes to play. Ripon responded with 10 consecutive points and, although the Foresters cut the lead back down to three, they were never quite able to overtake the home team.

Lake Forest remains in contention for a berth in the four-team Midwest Conference Tournament. Next on the Foresters' schedule is a home game on Saturday (February 2nd) afternoon at 4:00 PM against Beloit College (12-7, 7-5 MWC).
---