Lake Forest College Sports Information
February 12, 2003
Contact: Mike Wajerski, SID
Foresters Defeat Illinois College at Home, 76-71
Andris hits five three-pointers in the first half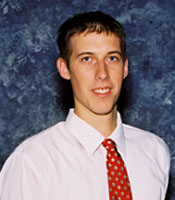 Tim Andris hit 5 three-pointers in the first half and pulled down 6 rebounds in the second.

LAKE FOREST, IL - The Forester men's basketball team defeated Illinois College 76-71 Wednesday (February 12) night in the Sports Center. The victory lifts Lake Forest's overall record to 7-13 and its Midwest Conference mark to 6-7. IC fell to 12-9 overall and 8-6 in the league.

Senior forward Tim Andris (Port Washington, WI/Port Washington) shot 5-of-6 from three-point range in the first half and finished with a team-high 19 points. He also added six rebounds - all in the second half. Andris became the sixth leading scorer for the Foresters this season.

The team's top scorer in 2002-03 is sophomore forward Eric McDonald (Elk Grove, IL/Elk Grove), who scored 17 points on Wednesday and is averaging 17.2 for the year. Senior guard Fred Bell (Mequon, WI/Homestead) added 15 points on 5-for-7 shooting from the field, including a 3-for-4 performance from three-point territory. Fellow senior guard Lee Taylor (Sheldon, IA/Sheldon) scored just three points but led the team with seven rebounds and dished out a game-high nine assists.

The Foresters shot 49.1% (26-of-53) from the floor while the Blueboys connected on 45% (27-of-60) of their field goal attempts. Both teams made 13 free throws, pulled down 34 rebounds, and committed 15 turnovers. The most glaring statistical difference was from beyond the three-point arc, where IC shot just 4-of-17 while Lake Forest made a season-high 11 of 18 attempts.

Three-pointers by Bell and McDonald in the game's first minute-and-a-half gave the Foresters a lead they would never relinquish. The margin reached as many as 11 points twice in the half, the last with just over six minutes left. The visitors cut the difference to just four points (37-33) with a 10-3 run and the period ended with Lake Forest leading 43-37.

A tip-in by McDonald and a three-pointer by Bell to open the second half took the lead back up to 11. Bell hit another three-pointer with just over 12 minutes to play to extend the lead to 14 points (58-44) and it reached a game-high 15 points (64-49) on a layup by freshman forward Henry Wimp (Chicago, IL/DeLaSalle) with seven-and-a-half minutes remaining. The Blueboys battled back to within four points three times could get no closer as the Foresters made seven of eight free throws in the final 30 seconds.

Lake Forest will play at first-place Grinnell College (15-5, 10-3 MWC) at 3:00 Saturday (February 15) afternoon. Next week the team will travel to Knox College (8-12, 5-8) on Tuesday (February 18) and will host Monmouth College (4-15, 1-11) on Saturday (February 22).
---