Lake Forest College Sports Information
February 12, 2005
Contact: Mike Wajerski, SID
Foresters Defeat Monmouth 78-61 at Home
Team shoots 56.5% from the field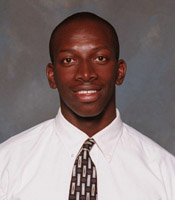 Franklyn Beckford led all players with 18 points.

LAKE FOREST, IL - The Lake Forest College men's basketball team hosted and defeated Monmouth College 78-61 Saturday (February 12) afternoon. The Foresters are now 13-8 overall this season and 9-5 in Midwest Conference play. The team is tied for second place in the league standings. Monmouth fell to 11-10 overall and 8-7 in the league.

Junior forward Franklyn Beckford (Jacksonville, IL/Jacksonville) scored a game-high 18 points and added seven rebounds. He shot 5-for-8 from the floor and 8-of-9 from the free throw line. Junior guard Greg Klos (Carol Stream, IL/Glenbard North) added 15 points and shot 7-for-8 from the foul line. Junior forward Brad Rathe (Deer Park, IL/Lake Zurich) shot 6-for-6 from the field in a 12-point, six-rebound performance. Senior forward Eric McDonald (Elk Grove, IL/Elk Grove) chipped in with seven points and a game-high nine rebounds.

The Foresters shot 56.5% from the floor, 46.7% (7-for-15) from three-point range, and 82.6% (19-for-23) from the line. The Fighting Scots shot just 38.1% from the field and 32.1% (9-for-28) from beyond the arc and made only four of 10 free throw attempts. Lake Forest out-rebounded the visitors 35-30 and committed 14 turnovers while forcing 10 Monmouth miscues.

The home team scored the game's first five points and jumped out to a 19-6 lead after just over nine minutes of play. Monmouth cut the margin to five points four times in the first half before a 7-0 Forester run made the score 36-24 at intermission.

McDonald's offensive rebound and put-back to open the second half increased the lead to 14 and it reached 16 on a Rathe jumper with 11:29 remaining. A 10-2 Monmouth run cut the difference to eight points with 9:12 left and the teams traded baskets for the next few minutes. A 7-0 Forester run beginning with four minutes to play put the game out of reach.

Lake Forest will host Illinois College at 7:30 Wednesday (February 16) night and travel to Grinnell College for a 3:00 game Saturday (February 19) afternoon. A Forester victory in either contest would clinch a berth in the four-team MWC Tournament on February 25-26.
---