Lake Forest College Sports Information
February 13, 2003
Contact: Mike Wajerski, SID
Fred Bell Named Forester Athlete of the Week
Senior captain's scoring surge sparked Foresters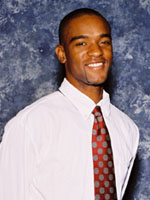 Fred Bell shot 73.3% from the field and 62.5% from 3-point range in 2 Forester wins during the week.

LAKE FOREST, IL - Lake Forest College men's basketball player Fred Bell (Mequon, WI/Homestead) was named Forester Athlete of the Week after a three-game stretch in which he averaged 15 points and was a key factor in his team's two victories over Midwest Conference opponents. Through 17 games the 5-11 guard had been averaging 6.7 points per game.

In a 53-58 loss to Lawrence University Friday (February 7) Bell scored 14 points and was 5-of-6 from the free throw line. But it was in the next two games that he really got the hot hand.

The senior captain shot 6-of-8, including 2-of-4 from three-point range, to score a season-high 16 points in a 79-62 win over Carroll College on Saturday. The efficiency continued Tuesday (February 12) as Bell knocked down three treys in four attempts and shot 5-of-7 from the floor, good for 15 points, as the Foresters defeated Illinois College 76-71.

For the week Bell shot 55.6% from the floor, 54.5% from the three-point arc and 75.0% from the charity stripe. He also added five assists and five rebounds.

The Forester Athlete of the Week is chosen by the Athletic Department on Thursdays.
---