Lake Forest College Sports Information
February 13, 2008
Contact: Mike Wajerski, SID
Foresters 11-9 after Victory at Illinois College
Laird Walker records second straight double-double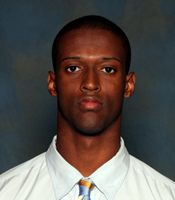 Laird Walker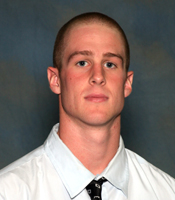 Pat Ebbing

JACKSONVILLE, Ill. - The Lake Forest College men's basketball team won 80-73 at Illinois College Wednesday night (February 13). The Foresters raised their overall record on the year to 11-9 and Midwest Conference mark to 7-6. The Blueboys fell to 9-12 overall and 5-9 in league play.

Senior forward Laird Walker (Chicago, Ill./Whitney M. Young Magnet) led Lake Forest with 21 points, 11 rebounds, and a career-high five assists. He also added a blocked shot and a pair of steals in the contest. Freshman forward Pat Ebbing (Bloomfield Hills, Mich./Brother Rice) was next on the team with a career-high 20 points. He shot 6-for-12 from three-point range and added five rebounds. Sophomore guard Victor Campbell (Milwaukee, Wis./Wisconsin Lutheran) and sophomore forward Hoyt Rees (Yorkville, Ill./Yorkville) also reached double figures with 12 and 10 points, respectively. Campbell shot 3-for-4 from beyond the arc and pulled down seven rebounds.

The Foresters shot 43.8 percent from the field, 11-for-21 (52.4%) from three-point range, and 27-for-35 (77.1%) from the free throw line. Illinois College made just 35.2 percent of its field goal attempts, including seven of 30 shots from beyond the arc, and knocked down 16 of 25 free throws. Both teams pulled down 37 rebounds and Lake Forest committed 21 turnovers while forcing just 10.

After falling behind 29-20 with seven minutes to play in the first half, the Foresters used a 10-1 run to tie the score and the game was tied again at 36 at halftime. Lake Forest then opened the second half with a 14-0 run and eventually led by 18 points with less than three minutes to play. Illinois College managed to score 24 points after that point but the Foresters connected on 11 of 12 free throws down the stretch to seal the victory.

Lake Forest trails Grinnell College by one game for fourth place in the conference standings and will host the Pioneers Saturday (February 16) at 4:00 p.m. Walker and classmate Troy Strange (Wonder Lake, Ill./Woodstock) will be recognized before their Senior Day game.
---