Lake Forest College Sports Information
February 15, 2003
Contact: Mike Wajerski, SID
Beckford Scores 39 in 94-85 Loss at Grinnell
Foresters fall to 6-8 in MWC play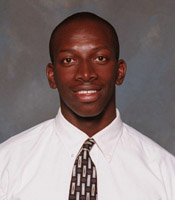 Franklyn Beckford missed just once in his 39-point game.

GRINNELL, IA - The Lake Forest College men's basketball team dropped a 94-85 decision at Grinnell College Saturday (February 15), dimming the team's hopes of qualifying for the four-team Midwest Conference Tournament. The Foresters overall record fell to 7-14 and their MWC mark dropped to 6-8 with the loss. Grinnell (16-5) is tied for first place in the conference with an 11-3 league record.

The high-pressure Grinnell defense enabled Forester freshman forward Franklyn Beckford (Jacksonville, IL/Jacksonville) to get open under the basket for numerous dunks and layups. He finished the game 17-of-18 from the field and 5-of-5 from the free throw line. His 39 points were easily a career-high and he added a game-high 10 rebounds.

Senior guard Lee Taylor (Sheldon, IA/Sheldon) was 8-of-15 from the field and scored a season-high 20 points. He also pulled down seven rebounds, dished out 11 assists, and recorded a pair of steals.

Lake Forest shot 64.8% (35-of-54) from the field but committed twice as many turnovers (28-14) as the home team. Grinnell connected on 42.3% (33-of-78) of its field goal attempts, including 29.5% (13-of-44) from three-point range. The Foresters held a slight 37-35 edge in rebounds.

The Foresters scored the first six points of the game and led 13-4 after four-plus minutes of play. Grinnell eventually tied the score at 17 and took its first lead (24-22) with 9:31 to play in the half. The Pioneers led by as many as six twice in the period and by four (44-40) at halftime.

The visitors scored the first eight points of the second half to regain the lead. Grinnell tied the score five times but did not go ahead until a basket with 11:45 to play gave the Pioneers a 63-62 advantage and began a 15-0 run. The Foresters fell behind by as many as 16 and were unable to trim the margin under 10 until the final minute.

Lake Forest will play at Knox College (9-12, 6-8 MWC) at 7:30 p.m. Tuesday (February 18) and will conclude its regular season schedule at home against Monmouth College (7-17, 1-12) next Saturday (February 22). The Foresters need a pair of victories and some help from other teams in the conference to qualify for the four-team MWC Tournament the following weekend (February 28-March 1).
---