Lake Forest College Sports Information
February 16, 2008
Contact: Mike Wajerski, SID
Lake Forest Falls at Home to Grinnell College
Laird Walker's third consecutive double-double not enough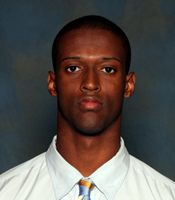 Laird Walker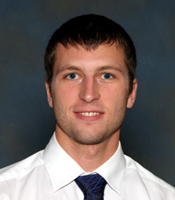 Troy Strange

LAKE FOREST, Ill. - The Forester men's basketball team dropped a 103-88 decision to visiting Grinnell College on Saturday (February 16). Lake Forest fell to 11-10 overall and 7-7 in Midwest Conference play while the Pioneers raised their overall record to 13-7 and league mark to 8-5.

Forester senior forward Laird Walker (Chicago, Ill./Whitney M. Young Magnet) led the home team with 24 points and 10 rebounds. He shot 9-for-13 from the field and added two assists and a blocked shot. Sophomore forward Hoyt Rees (Yorkville, Ill./Yorkville) was next on the team with 20 points and he added four assists. Junior guard Jeremy Beyersdorf (Neenah, Wis./Fox Valley Lutheran) also reached double figures with 14 points and he chipped in with six rebounds and three assists. Sophomore guard Victor Campbell (Milwaukee, Wis./Wisconsin Lutheran) led the squad with a career-high six assists. Troy Strange (Wonder Lake, Ill./Woodstock), who was honored along with Walker during the pre-game Senior Day ceremony, made his first career start.

Lake Forest shot 68.8 percent from the field, made one of five three-pointers, and connected on 21 of 32 free throws. The Pioneers shot 42.9 percent from the floor, 17-for-45 (37.8%) from three-point range, and 20-for-23 (87%) from the foul line. The Foresters held a slight 33-32 edge in rebounds but committed 20 turnovers while forcing seven.

Grinnell scored the game's first five points before Lake Forest rattled off the next 11. The Foresters led by as many as 10 points in the first half and 49-43 at intermission.

The Pioneers took the lead during an 11-2 run to open the second half and the lead for either team was no more than three points for nearly 10 minutes of the period. A 12-3 Grinnell run ending with 3:45 to play extended the visitors' advantage to 10 points and the Foresters would get no closer than seven the rest of the way. The Pioneers made seven of eight free throws in the final minute-and-a-half to seal the victory.

The Foresters will play their final home game of the season Wednesday night (February 20) against Monmouth College. Tip-off is scheduled for 7:30. Lake Forest will then close out the regular season at Knox College next Saturday (February 23) at 4:00 p.m. The team needs to win both games and have Grinnell lose two of three contests during the week to qualify for the four-team MWC Tournament.
---