Lake Forest College Sports Information
February 17, 2004
Contact: Mike Wajerski, SID
Franklyn Beckford Named MWC Performer of the Week
Sophomore tied NCAA record for single-game field goal percentage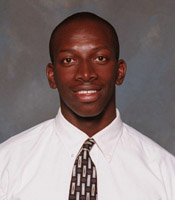 Franklyn Beckford is shooting 62.9% this season.

LAKE FOREST, IL - Lake Forest College men's basketball player Franklyn Beckford (Jacksonville, IL/Jacksonville) was named Midwest Conference Performer of the Week Tuesday (February 17) for his contributions to the Foresters' two league victories in the last seven days.

On Wednesday (February 11), Beckford scored 19 points and pulled down a game-high nine rebounds in a 77-66 victory at home over Illinois College. He shot 6-for-8 from the field and 7-for-8 from the free throw line in 33 minutes of play.

Beckford tied an NCAA Division III single-game record by connecting on 18 field goals without a miss in Saturday's 109-88 victory over Grinnell College. Eight of his shots were dunks and he added five free throws to finish with a career-high 41 points. The sophomore also pulled down seven rebounds and added a pair of assists.

In the two games combined Beckford shot 92.3% (24-of-26) from the field and 75% (12-of-16) from the line while averaging 30.0 points and 8.0 rebounds per contest. He leads the team this year with 17.1 points and 8.7 rebounds per game and is shooting a team-best 62.9% from the field.

Midwest Conference Performers of the Week are selected by the league's sports information directors.




---