Lake Forest College Sports Information
February 18, 2003
Contact: Mike Wajerski, SID
Foresters Stay Alive With Overtime Victory at Knox
Andris hits game-tying three-pointer with 7.6 left in regulation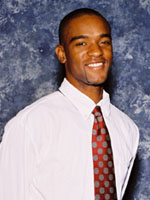 Fred Bell's 24 points are a new career-high.

GALESBURG, IL - The Forester men's basketball team kept its Midwest Conference Tournament hopes alive with an 88-84 overtime victory at Knox College on Tuesday (February 18). The win lifts Lake Forest's overall record to 8-14 and its MWC mark to 7-8. The Prairie Fire fell to 9-13 overall and 6-9 in league play. The top four teams in the conference qualify for the tourney and the Foresters are now a game out of fourth place and one of five teams battling for two playoff spots.

Lake Forest had four players score in double figures, led by sophomore forward Eric McDonald's (Elk Grove, IL/Elk Grove) 25 points. He shot 10-for-15 from the field and made both his three-point attempts. McDonald is the team's leading scorer this season, scoring an average of 17.2 points per game while shooting 59% from the field.

Senior guard Fred Bell (Mequon, WI/Homestead) scored a career-high 24 points by shooting 6-of-9 from the field, 3-of-4 from three-point range, and 9-of-9 from the free throw line. Senior forward Tim Andris (Port Washington, WI/Port Washington) added 18 points and connected on five three-pointers. Freshman forward Franklyn Beckford (Jacksonville, IL/Jacksonville) also reached double figures with 11 points and led all players with seven rebounds.

The Foresters, who entered the game leading the conference with a .510 shooting percentage, shot 51.8% (29-of-56) on Tuesday. The team also connected on over half (11-of-21) its three-point attempts, shot 70.4% (19-of-27) from the free throw line, and overcame 21 turnovers. Knox was 44.4% (28-of-63) from the field, 26.3% (5-of-19) from beyond the arc, 72.4% (23-of-31) from the line, and had 11 turnovers.

Neither team led by more than four points in a first half that included seven lead changes and as many ties. The period ended with Lake Forest leading 33-32. An 11-0 run by the Foresters early in the second half gave them a nine-point (46-37) advantage with 15:46 remaining. The visitors stayed ahead until an 11-2 run by Knox gave the Prairie Fire a 70-65 lead with just 46 seconds left in regulation. After Bell hit a three-pointer with 33 seconds left and Knox's Chris Heimann made one of two free throws nine seconds later, Lake Forest trailed 71-68. Andris then connected on the biggest shot of his career, a three-pointer from the corner with 7.6 seconds left. Andris and Bell each scored seven of the Foresters 17 points in the five-minute overtime period and combined to make four of five free throws in the final 31 seconds.

Lake Forest will host Monmouth College (4-17, 1-13 MWC) Saturday (February 22) afternoon at 1:00. The Foresters need a victory and a few other things to go right throughout the week to qualify for the MWC Tournament the following weekend (February 28-March 1).
---