Lake Forest College Sports Information
February 20, 2006
Contact: Mike Wajerski, SID
Franklyn Beckford Named Midwest Conference Performer of the Week
Senior set NCAA Division III record for consecutive field goals made in a season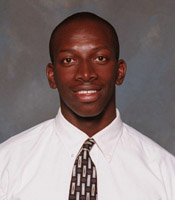 Franklyn Beckford scored 33 points in his final game.

LAKE FOREST, IL - Lake Forest College men's basketball player Franklyn Beckford (Jacksonville, IL/Jacksonville) was named Midwest Conference Performer of the Week on Monday (February 20) for his performance in Lake Forest's 110-93 victory over Grinnell College on Saturday (February 18).

Beckford scored a game-high 33 points in the contest on 14-of-15 shooting from the field. He entered the final game of his career having connected on each of his last 12 shots from the floor and made his first 14 of the afternoon, setting a new NCAA Division III record for consecutive field goals made in a season. His streak spanned three games while the previous mark of 24 covered five.

The senior forward finished his career ranked ninth in team history with 1,309 points and eighth with 632 rebounds. He also established a new single-season school record with a .674 field goal percentage and raised his career mark to .633, higher than any other Forester's best season.

Midwest Conference Performers of the Week are selected by the league's sports information director. Beckford also earned the award once as a sophomore.
---