Lake Forest College Sports Information
February 20, 2008
Contact: Mike Wajerski, SID
Foresters Fall in Final Home Game of the Season
Laird Walker records fourth straight double-double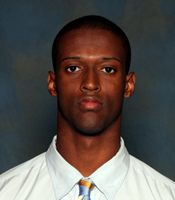 Laird Walker

LAKE FOREST, Ill. - The Lake Forest College men's basketball team dropped a 72-57 decision to visiting Monmouth College Wednesday night (February 20). The Foresters fell to 11-11 overall this season and 7-8 in Midwest Conference play. The Fighting Scots raised their overall record to 7-15 and league mark to 7-9.

Senior forward Laird Walker (Chicago, Ill./Whitney M. Young Magnet) led Lake Forest with 16 points, 10 rebounds, three assists, and two blocked shots. He shot 4-for-8 from the field and 8-for-11 from the free throw line in his fourth consecutive double-double. Sophomore guard Victor Campbell (Milwaukee, Wis./Wisconsin Lutheran) was next on the squad with 15 points and junior guard Jeremy Beyersdorf (Neenah, Wis./Fox Valley Lutheran) and sophomore forward Hoyt Rees (Yorkville, Ill./Yorkville) added 11 and 10, respectively.

The Foresters shot 37.5 percent from the field, 4-for-19 (21.1%) from three-point range, and 17-for-23 (73.9%) from the foul line. The Scots connected on 48.9 percent of their field goal attempts, including 11 of 20 (55%) from beyond the arc, and knocked down 15 of 22 free throws. Lake Forest out-rebounded the visitors 32-30 but committed 14 of the game's 24 turnovers.

There were eight ties in the first half and neither team led by more than five points in the period. The score at intermission was 30-26 in favor of Monmouth.

After falling behind by seven early in the second half, the Foresters used a 9-2 run to tie the score at 35 with 12:30 to play in the game. Monmouth pulled ahead again and led by as many as six points before a pair of three-pointers by Beyersdorf tied the game at 52 with 4:51 remaining. The Scots, however, scored the next 12 points and Lake Forest was unable to get any closer than 10 points the rest of the way.

The Foresters will close out the season at Knox College Saturday (February 23) at 4:00 p.m. A victory would give Lake Forest its fourth winning season in the last five years, an 8-8 league record, and fifth place in the conference standings.
---