Lake Forest College Sports Information
February 2nd, 2002
Contact: Mike Wajerski, SID
Foresters Drop Heartbreaker to Beloit
Bell and Taylor score in double figures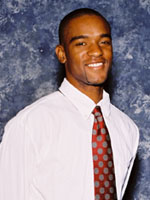 Fred Bell made a trio of three-pointers and led the Foresters with 13 points.

LAKE FOREST, IL - Despite holding last year's Midwest Conference Player of the Year, Henry Grant, to just three points, the Forester men's basketball team could not hold off the rest of the Buccaneers and fell to Beloit College 60-58 Saturday (February 2nd) afternoon. The loss drops Lake Forest to 9-11 on the season and 6-7 in the conference. It is the first time since the end of the 1998-99 season that the Foresters have been below .500 in the league.

Junior guard Fred Bell (Mequon, WI/Homestead) led the team in scoring with 13 points. Bell shot 5-of-8 from the floor, including 3-of-4 from three-point range. He also had four rebounds, two assists and a steal in 36 minutes of play.

The next-highest scoring Forester was fellow junior guard Lee Taylor (Sheldon, IA/Sheldon), who had 10 points in the game. Taylor also added six rebounds, seven assists and a steal in 37 minutes.

Beloit, the team with the highest shooting percentage in the MWC, connected on 47.9% of its shots compared to just 38.9% from Lake Forest, who entered the weekend ranked second in the conference in that category. Both teams had 32 rebounds and Beloit committed 20 turnovers to the Foresters' 16.

The home team scored the game's first seven points and led by as many as nine before a 9-0 Beloit run tied the score at 17 with 7:30 to play in the first half. After the Buccaneers went ahead by one, the Forester scored six straight points to retake the lead, which shrunk to two points (25-23) by halftime.

The second half featured six ties and 17 lead changes and neither team led by more than four points. Taylor connected on a pair of free throws with 50 seconds left in the game to cut the Buccaneer lead to two points (60-58). After Beloit missed a jumper, the Foresters were unable to score and tie the game.

Even though Lake Forest is 6-7 in the MWC, they still control whether they qualify for the season-ending four-team Midwest Conference Tournament. They will travel to Illinois College (11-6, 8-7 MWC) Wednesday (February 6th) for a "must-win" game against the Blueboys.
---