Lake Forest College Sports Information
February 2, 2008
Contact: Mike Wajerski, SID
Efficient Foresters Defeat Knox College at Home
Team shoots 61 percent from the field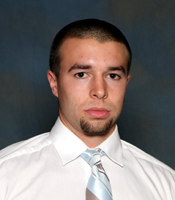 Hoyt Rees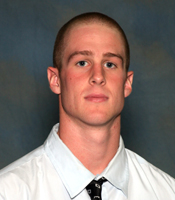 Pat Ebbing

LAKE FOREST, Ill. - The Lake Forest College men's basketball team posted a 75-62 victory at home over Knox College on Saturday (February 2). The Foresters raised their overall record to 10-7 and Midwest Conference mark to 6-4 while the Prairie Fire fell to 5-12 overall and 4-6 in league play.

Lake Forest sophomore forward Hoyt Rees (Yorkville, Ill./Yorkville) led all players in the game with 22 points. He shot 10-for-13 from the field and added six rebounds in the contest. Sophomore guard Victor Campbell (Milwaukee, Wis./Wisconsin Lutheran) scored 13 points in the game and also pulled down six boards. He shot 5-for-6 from the field, including a 3-for-4 performance from three-point range. Junior guard Jeremy Beyersdorf (Neenah, Wis./Fox Valley Lutheran) led the team with five assists and made all three of his field goal attempts in a 12-point performance. Freshman forward Pat Ebbing (Bloomfield Hills, Mich./Brother Rice) also reached double figures with 11 points. His 4-for-4 shooting performance included three baskets from beyond the arc. Senior forward Laird Walker (Chicago, Ill./Whitney M. Young Magnet) led the squad with eight rebounds and matched a career-high with four assists.

The Foresters shot 60.9 percent from the field, 9-for-16 from three-point range, and 10-for-19 from the foul line. The Prairie Fire made 44.4 percent of their field goal attempts, including six of 19 from beyond the arc, and just eight of 18 free throws. Lake Forest out-rebounded the visitors 31-23 and committed 15 turnovers while forcing 10.

The home team scored the game's first five points and led throughout the contest. The margin reached double figures several times in the first half and an 8-0 Forester run extended it to 14 points late in the period, which ended with Lake Forest ahead 41-29.

The teams traded three-pointers to open the second half. After a Knox basket the Foresters rattled off seven straight points to take a 17-point lead (51-34). An 8-0 Lake Forest run a few minutes later gave the home team its largest lead of the game at 21 points (62-41). The Prairie Fire pulled to within a dozen points (66-54) with five-and-a-half minutes to play but would get no closer.

Lake Forest's next three games will be played away from home, beginning next weekend (February 8-9) at Beloit College Friday night at 7:30 and Lawrence University Saturday afternoon at 4:00.
---