Lake Forest College Sports Information
February 22, 2003
Contact: Mike Wajerski, SID
Lake Forest Defeated by Monmouth in Season Finale
Fred Bell leads the team with 16 points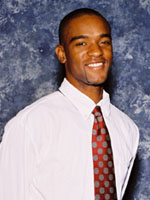 Fred Bell led the team on Saturday with 16 points.

LAKE FOREST, IL - The Lake Forest College men's basketball season came to an end Saturday (February 22) with a 71-61 loss at home to Monmouth College. The defeated dropped the Foresters overall record to 8-15 and their Midwest Conference mark to 7-9. Monmouth finished the year with a 5-18 overall record and a 2-14 mark in the conference.

Senior guard Fred Bell (Mequon, WI/Homestead) led Lake Forest with 16 points. He played all but two minutes and 37 seconds of his final career game and shot 6-for-10 from the field.

A pair of freshman also reached double figures for the Foresters. Forward Franklyn Beckford (Jacksonville, IL/Jacksonville) shot 5-for-7 from the floor and finished with 12 points. Guard Greg Klos (Carol Stream, IL/Glenbard North) was 3-for-5 from beyond the three-point arc and scored 11.

Sophomore Eric McDonald (Elk Grove, IL/Elk Grove) scored eight points and had a game-high nine rebounds. Seniors Lee Taylor (Sheldon, IA/Sheldon) and Tim Andris (Port Washington, WI/Port Washington) each pulled down seven boards in their final game and Taylor added a game-high five assists.

Lake Forest shot just 39.2% (20-of-51) from the floor while Monmouth made 49.1% (26-of-53) of its field goal attempts. The Foresters out-rebounded the Fighting Scots 36-25 but committed 17 turnovers while forcing just six from the visitors.

Lake Forest jumped out to a nine-point (16-7) lead after six minutes of play. The Scots outscored the Foresters 27-9 over the next 11 minutes to take a nine-point lead (34-25) of their own. Each team scored five points over the final three minutes of the period and Monmouth led 39-30 at intermission.

The margin reached 17 points on four separate occasions in the second half before a 10-0 Forester run made the score 63-56 with 3:37 to go. Lake Forest cut the lead to seven three more times but could get no closer as Monmouth made eight free throws down the stretch.

The Foresters were 49-42 in Andris, Bell, and Taylor's four years. The trio amassed 2,087 points, 965 rebounds, and 601 assists in more than 6,200 minutes of play.
---