Lake Forest College Sports Information
February 25th, 2002
Contact: Mike Wajerski, SID
Taylor and McDonald Named MWC Honorable Mention
Both ranked among league's leaders in various categories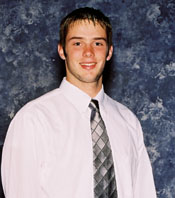 Junior Lee Taylor is a repeat Honorable Mention selection.

LAKE FOREST, IL - The Midwest Conference released its men's basketball All-Conference teams Monday (February 25th) and two Foresters made the list.

For the second straight year, Lee Taylor (Sheldon, IA/Sheldon) was an Honorable Mention selection. The junior guard was one of the most versatile players in the conference this season. He finished the year ranked 30th in the league in scoring (10.2 ppg), 4th in rebounding (7.5 rpg), 5th in assists (4.3 apg), and tied for 8th in steals (1.75 spg) in MWC games.

Taylor narrowly missed a "triple-double" three times this season. On December 8th at Grinnell College, he scored 16 points, pulled down 9 rebounds and dished out 12 assists. At home against Knox College on February 9th, Taylor had 17 points, 14 rebounds and 9 assists. A week later in the Foresters' home game against Grinnell, he scored 15 points and added 10 rebounds and 8 assists.

Lake Forest's second Honorable Mention selection was freshman forward Eric McDonald (Elk Grove, IL/Elk Grove). McDonald finished tied for 5th in the MWC in scoring with 18.1 points per league game. He also finished 14th in rebounding (5.9 rpg) and 2nd in field goal percentage (61.0%).

McDonald's 50 points in the game at Grinnell on December 8th were the highest total for an MWC player all season and the second-highest total in the nation.

Five players were named to the league's First and Second Teams and eight were Honorable Mention.

| | |
| --- | --- |
| FIRST TEAM: | HONORABLE MENTION: |
| Henry Grant (SR), Beloit College | Nick Butrym (JR), Ripon College |
| Kari Hannula (JR), St. Norbert College | Ryan Gebler (SR), Lawrence University |
| Nathan Hoffman (SR), St. Norbert College | Jason Holinbeck (FR), Lawrence University |
| Steve Kohl (SR), Ripon College | Garrett Ingram (JR), Illinois College |
| Steve Wood (SO), Grinnell College | Eric McDonald (FR), Lake Forest College |
| | Matt Roherty (SR), St. Norbert College |
| SECOND TEAM: | Kenny Spranger (SR), Monmouth College |
| Marques Flowers (JR), Beloit College | Lee Taylor (JR), Lake Forest College |
| Victor Garcia (JR), Knox College | |
| Steve Glasgow (SR), Monmouth College | PLAYER OF THE YEAR: Nathan Hoffman, St. Norbert |
| Scott Landisch (SO), Ripon College | |
| Matt Petefish (SR), Illinois College | COACH OF THE YEAR: Brian DeNoble, St. Norbert |
---