Lake Forest College Sports Information
February 25, 2005
Contact: Mike Wajerski, SID
Ripon Defeats Lake Forest in MWC Tournament Semifinals
21 points from Klos and Beckford's double-double not enough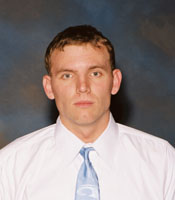 Eric McDonald finished his career with 1,346 points.

APPLETON, WI - The Forester men's basketball team fell 75-60 to Ripon College Friday (February 25) night at Lawrence University in the semifinals of the 2005 Midwest Conference Tournament. Lake Forest finished the season with a 14-10 record while Ripon raised its mark to 18-6.

Junior guard Greg Klos (Carol Stream, IL/Glenbard North) led the Foresters with 21 points. He made six three-pointers in the game and 72 on the season, the second-highest total in team history, three shy of the 75 made by Jermaine Williams in 1994-95. Junior forward Franklyn Beckford (Jacksonville, IL/Jacksonville) was next on the team with 14 points and he added a game-high 11 rebounds. He finished the year with a .632 field goal percentage, matching the single-season school record set by Otis Muttaqee in 1990-91. Sophomore guard Brad Wehner (Sheboygan, WI/Sheboygan North) also reached double figures in the game with 10 points and senior forward Eric McDonald (Elk Grove, IL/Elk Grove) added eight points, seven boards, three assists, and a pair of steals.

Lake Forest shot 42.9% from the field in the game and 44% (11-of-25) from three-point range. The team made just 13 of 22 free throws in the game but set a school record with a .740 free throw percentage on the season. Ripon made exactly one-half of its field goal attempts and shot 52.6% (10-of-19) from beyond the arc and 73.9% (17-of-23) from the foul line. The Foresters out-rebounded the Red Hawks 33-25 but committed 15 turnovers while forcing just seven.

Each team scored on the first nine possessions of the game and Lake Forest led 13-9 after four-and-a-half minutes of play. After a Beckford free throw extended the Forester lead to five, a 16-3 Ripon run gave the Red Hawks a lead they would never relinquish. Lake Forest trailed by as many as eight points in the first half and 33-29 at intermission.

A 6-1 run by the Red Hawks to start the second half extended the lead to 10 points (40-30) and it remained in double figures for the majority of the second half. Lake Forest scored eight straight points and closed the gap to seven (63-56) with three-and-a-half minutes remaining but would get no closer as Ripon shot 12-of-14 from the free throw line and outscored the Foresters 12-4 the rest of the way.

McDonald is Lake Forest's lone senior. He finished his career ranked seventh in school history with 1,346 career points and fourth with a .548 field goal percentage.
---