Lake Forest College Sports Information
February 6, 2003
Contact: Mike Wajerski, SID
Eric McDonald Named Forester Athlete of the Week
Sophomore totaled 56 points and 15 rebounds in 2 MWC games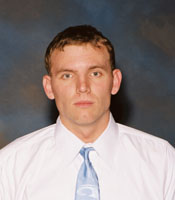 Eric McDonald has led the Foresters in both scoring and rebounding eight times this season.

LAKE FOREST, IL - Lake Forest College men's basketball player Eric McDonald (Elk Grove, IL/Elk Grove) was named Forester Athlete of the Week after two fantastic outings that helped his team earn a split of Midwest Conference games. McDonald averaged 28.0 points and 7.5 rebounds for the weekend on the strength of 75.9% shooting from the floor and 73.3% shooting from the free throw line.

In Friday's (January 31) 69-71 loss at St. Norbert College, the 6-4 forward led the Foresters with 21 points and pulled down a game-high nine rebounds. He was 8-of-11 from the floor, including 1-of-2 from three-point range, and 4-of-6 from the charity stripe.

McDonald was even more impressive the following afternoon at Beloit College, shooting 14-of-18 from the field and scoring a game-high and season-high 35 points. He was also 7-of-9 from the line and added a game-high six boards and two steals in the 88-85 victory.

McDonald leads the 2002-03 Foresters with 17.7 points and 5.9 rebounds per game. He is shooting 60.7% from the field and 72.5% from the line on the year.

The Forester Athlete of the Week is chosen by the Athletic Department on Thursdays.
---