Lake Forest College Sports Information
February 7, 2009
Contact: Mike Wajerski, SID
Lake Forest Falls in Overtime to Nation's 11th-Ranked Team
Patrick Hanley's three-pointer with 11.8 seconds left forces extra period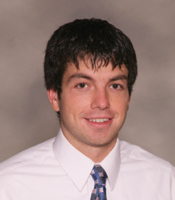 Patrick Hanley

LAKE FOREST, Ill. - The Forester men's basketball team dropped a 73-64 decision in overtime to visiting St. Norbert College, the nation's 11th-ranked team, at home on Saturday (February 7). Lake Forest is now 6-14 overall and 5-8 in Midwest Conference play. The Green Knights raised their overall record to 17-3 and league mark to 11-2.

Forester junior forward Patrick Hanley (Plainfield, Ill./Plainfield) led all players with 16 points and his seven rebounds shared game-high honors with freshman post player Travis Clark (Evanston, Ill./Evanston). Hanley shot 6-for-8 from the field, including a 3-for-4 performance from three-point range. Junior forward Victor Campbell (Milwaukee, Wis./Wisconsin Lutheran) and freshman forward Nate Bateman (Lake Forest, Ill./Lake Forest Academy) also reached double figures with 10 points apiece.

St. Norbert led by as many as six points early in the contest before an 8-0 run gave Lake Forest its first lead (17-15) with six minutes to play in the opening period. The Foresters trailed by three before scoring the final six points of the half, giving them a 23-20 lead at intermission.

The home team scored seven of the first nine points of the second half to pull ahead by eight with 17 minutes remaining. A 10-2 run by the Knights evened the score at 32 and the game was tied again at 34, 37, and 47. St. Norbert regained the advantage and led by five with a minute-and-a-half left. A layup by Hanley cut the deficit to three, a basket by freshman guard Chris Roets () with 51 seconds left trimmed it to two, and a three-pointer by Hanley tied it with 11.8 seconds on the clock and forced overtime.

The Green Knights jumped ahead on a three-pointer on their second possession of the extra period and added to the lead with another trey the next time down the court. St. Norbert extended its lead and prevented the Foresters from coming back by knocking down six of seven free throws in the period.

The Foresters will host Knox College next Saturday (February 14) at 5:00 p.m. It will be Lake Forest's Senior Day and Alumni Day. Watch live video webcasts of all league games at www.midwestconference.tv.
---