Lake Forest College Sports Information
February 8, 2005
Contact: Mike Wajerski, SID
Dodd Browning Named Midwest Conference Performer of the Week
Junior helped lead Foresters to two league victories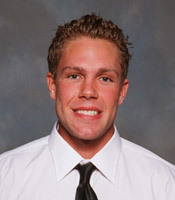 Dodd Browning scored in double figures in both wins.

LAKE FOREST, IL - Lake Forest College men's basketball player Dodd Browning (Champaign, IL/Central) was named Midwest Conference Performer of the Week Tuesday (February 8) for his contributions to a pair of Forester victories against MWC opponents over the weekend (February 4-5).

Browning scored a game-high 14 points and led Lake Forest with seven rebounds in the team's 63-55 victory over Carroll College on Friday. The junior guard shot 4-for-5 from three-point range in the game.

On Saturday he had 11 points and three assists in a 61-60 triumph over St. Norbert College. He knocked down three of four free throws in the final 45 seconds to help seal the win.

Browning is fourth on the team in scoring this season at 8.5 points per game. He is shooting exactly 50% from the field, 42.9% (27 of 63) from three-point range, and 77.4% from the foul line.

Midwest Conference Performers of the Week are selected by the league's sports information directors.



---