Lake Forest College Sports Information
February 8, 2006
Contact: Mike Wajerski, SID
Foresters Rout Illinois College behind Stingy Defense
Team shoots 69%, holds IC to 19% in the first half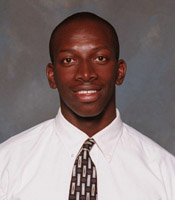 Franklyn Beckford scored more than a point per minute against the team from his hometown.

LAKE FOREST, IL - The Lake Forest College men's basketball team posted a convincing 77-54 victory at home over Illinois College Wednesday (February 8) night. The Foresters are now 6-15 overall this season and 4-10 in Midwest Conference play. The Blueboys fell to 7-13 overall and 3-10 in the league.

Senior forward Franklyn Beckford (Jacksonville, IL/Jacksonville) led all players with 23 points on 10-for-13 shooting from the field in just 20 minutes of play. His five rebounds tied with fellow senior forward Brad Rathe (Deer Park, IL/Lake Zurich) and senior guard Adesina Benton (Richton Park, IL/Argo) for team-high honors. Rathe finished the game with nine points and Benton added five assists. Among the five points scored by senior guard Greg Klos (Carol Stream, IL/Glenbard North) was the 200th three-pointer of his career, making him just the second player in team history to reach that milestone.

The Foresters shot 69% from the field in the first half while holding Illinois College to just 19%. The teams' shooting percentages for the entire game were 56.6% and 30.2%, respectively. Lake Forest made five three-pointers in 15 attempts and shot 12-for-17 from the free throw line. The Blueboys shot 5-for-17 from beyond the arc and 11-for-14 from the foul line. Both teams committed 18 turnovers and the home team out-rebounded its guests 37-32.

The game was tied 2-2 before the Foresters rattled off 19 consecutive points in seven-and-a-half minutes. An 11-0 Lake Forest run later in the period put Lake Forest ahead by 29 and the lead reached 32 before the Blueboys scored the first half's final basket. The home team led 44-14 at intermission.

The difference grew to 39 points (68-29) on a dunk by Beckford midway through the second half. Illinois College scored the game's next 14 points and got as close as 21 points late in the contest.

The Foresters will travel to Monmouth College on Saturday (February 11) afternoon for a 4:00 game. Lake Forest will then close out the season with a home game against Grinnell College the following Saturday (February 18) at 3:00 p.m.
---