Lake Forest College Sports Information
February 9th, 2002
Contact: Mike Wajerski, SID
Foresters Fall to Knox in Overtime
Taylor nearly records triple-double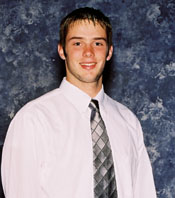 For the second time this season, junior Lee Taylor narrowly missed a triple-double.

LAKE FOREST, IL - The Forester men's basketball team hosted Knox College Saturday (February 9th) afternoon but was defeated by the Prairie Fire in overtime by a score of 103-92. The loss drops Lake Forest's overall record to 9-13 and its Midwest Conference mark to 6-9.

Junior guard Lee Taylor (Sheldon, IA/Sheldon) scored 17 points to tie for the team-lead in scoring. Taylor, who shot 6-of-11 from the field and a perfect 3-of-3 from three-point range, also pulled down a game-high 14 rebounds, dished out a team-high nine assists and added a game-high four steals. It was the second time this season that Taylor has narrowly missed reaching double figures in three offensive categories. His other near "triple-double" came at Grinnell College where he had 16 points, nine rebounds and 12 assists.

Joining Taylor with a team-high 17 points was freshman forward Eric McDonald (Elk Grove, IL/Elk Grove). McDonald shot 8-of-10 from the floor and added eight rebounds and a pair of assists.

Also scoring in double figures for the Foresters were junior guard Fred Bell (Mequon, WI/Homestead) and junior forward Tim Andris (Port Washington, WI/Port Washington), with 14 and 10 points, respectively. Bell shot 2-of-4 from three-point land, slightly raising his long-range percentage in MWC games to a league-high 48.8%. Andris shot a perfect 3-of-3 from the field, all from beyond the arc.

In 32 attempts, the Foresters made 15 three-pointers, their second-highest total of the year. Knox connected a season-high 19 times in 31 attempts from long-range. Lake Forest shot 44.7% from the floor (34-of-76) while the Prairie Fire made exactly half of their 72 field goal attempts. The home team had seven more rebounds (47-40) and two more turnovers (17-15) in the loss.

Knox outscored Lake Forest 47-43 in the first half. Trailing by a single point (50-49) with 16 minutes to play in the game, the Foresters began an 11-0 run that gave them a 10-point advantage. The visitors responded with a 20-4 run to retake the lead (70-64). A three-pointer by Taylor with 6:22 to play in regulation put Lake Forest back on top (75-74). After a tip-in by McDonald, Knox scored nine straight points to lead by six (83-77). Bell and Taylor each knocked down a pair of free throws and Taylor connected from long-range again to give the home team an 84-83 advantage. A Knox three-pointer and a basket by McDonald ended the second half with the teams tied at 86.

The Prairie Fire scored on all but two of their 11 overtime possessions to win by 11.

Lake Forest will conclude its season next Saturday (February 16th) with a home game against Grinnell College (10-11, 7-7 MWC). Earlier this season, the Foresters defeated the Pioneers 140-135 in overtime.
---