Lake Forest College Sports Information
February 9, 2005
Contact: Mike Wajerski, SID
Lake Forest Tied for Second in MWC After Victory at Knox
Beckford and Klos lead the way with 14 points each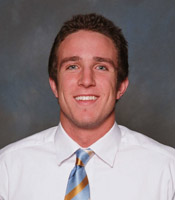 Greg Klos has made 60 three-pointers this season.

GALESBURG, IL - The Forester men's basketball team won 66-59 at Knox College Wednesday (February 9) in an important Midwest Conference match-up for both squads. Lake Forest is now 12-8 overall, 8-5 in the MWC, and tied with two other teams for second place in the league standings. The Prairie Fire fell to 12-9 overall and 8-6 in the conference, good for fifth place. The top four teams will compete in the MWC Tournament after the completion of the regular season.

Junior guard Greg Klos (Carol Stream, IL/Glenbard North) and junior forward Franklyn Beckford (Jacksonville, IL/Jacksonville) led the Foresters with 14 points apiece. Klos knocked down four of 10 attempts from beyond the arc and now has a career-high 60 three-pointers this year, the second-highest single-season total in school history. Beckford shot 5-for-6 from the field and 4-for-5 from the foul line and added six rebounds in the contest. He raised his field goal percentage on the season to .622. Junior guard Dodd Browning (Champaign, IL/Central) and senior forward Eric McDonald (Elk Grove, IL/Elk Grove) each scored eight points while both junior forward Brad Rathe (Deer Park, IL/Lake Zurich) and sophomore guard Brad Wehner (Sheboygan, WI/Sheboygan North) added seven.

Lake Forest shot 47.1% from the floor while Knox connected on 37.5% of its field goal attempts. The Foresters also had an edge from three-point range, where they were 7-of-20 while the Prairie Fire made just six of 24 tries. Both teams made 11 free throws, Lake Forest in 13 attempts and Knox in 15. The visitors held a 36-28 edge in rebounds but committed 14 turnovers while forcing 10.

The first half included five ties, 11 lead changes, and no lead of more than four points for either team. Wehner made a three-pointer as the buzzer sounded to give the Foresters a 28-27 halftime lead.

A pair of Klos three-pointers, another by Browning, and a layup by Beckford to start the second half extended the margin to 12 points, the largest lead of the game. An 8-0 Knox run cut the difference to four points and the Prairie Fire pulled to within three (43-40) with just over 10 minutes to play. The Foresters regained their 12-point edge with an 11-2 run. The closest the home team came to their guests the rest of the way was five points with less than 20 seconds remaining in the contest.

Lake Forest's next two games will be at home. The team will host Monmouth College at 3:00 Saturday (February 12) afternoon and Illinois College next Wednesday (February 16) night at 7:30. The Foresters will finish the regular season on Saturday, February 19, at Grinnell College.
---