Lake Forest College Sports Information
January 10, 2006
Contact: Mike Wajerski, SID
Lake Forest Comeback Falls Short Against Knox
Foresters fall to 2-2 in Midwest Conference play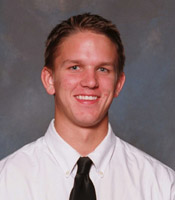 Brad Rathe came off the bench on Tuesday to score 11 points.

LAKE FOREST, IL - The Forester men's basketball team dropped a 59-55 decision at home to Knox College Tuesday (January 10) night. Lake Forest fell to 4-7 overall this season and 2-2 in Midwest Conference play. Knox is now 4-5 overall and 1-2 in the league.

Senior forward Brad Rathe (Deer Park, IL/Lake Zurich) and senior guard Greg Klos (Carol Stream, IL/Glenbard North) led the Foresters with 11 points apiece. Senior forward Franklyn Beckford (Jacksonville, IL/Jacksonville) and junior forward Laird Walker (Chicago, IL/Whitney M. Young Magnet) each added nine. Beckford also pulled down a game-high 12 rebounds.

Lake Forest shot just 34.5% from the field in the contest and made six of 24 three-point field goal attempts. The home team was also 11-for-15 from the free throw line. The Prairie Fire shot 42.1% from the field, 7-for-25 from beyond the arc, and 4-for-10 from the foul line. The visitors held a slight 39-37 edge in rebounds and the teams combined to commit just 13 turnovers.

Beckford scored the game's first basket, giving the Foresters what turned out to be their only lead of the contest. Knox used a 10-2 run to pull ahead 17-8 midway through the first half and scored eight points in a row later in the period to claim a 12-point advantage. After a pair of Lake Forest three-pointers, the Prairie Fire scored the final seven points of the half and led 34-21 at intermission.

The visitors led by as many as 15 points in the second half but a 12-3 Forester run trimmed the margin to just four points (54-50) with 67 seconds left in the game. Lake Forest pulled back to within four with 30 second remaining and again with 12 ticks left but could get no closer.

Lake Forest will continue conference play on the road this weekend (January 13-14). The Foresters will play at Ripon College Friday evening at 7:30 and at Lawrence University Saturday at 4:00 p.m. Thanks to an agreement between the Midwest Conference and Penn Atlantic, video of Friday's game will be shown live on the internet. For more details, visit the MWC Web site at www.midwestconference.org.
---