Lake Forest College Sports Information
January 11th, 2002
Contact: Mike Wajerski, SID
Beloit Hands Foresters First MWC Loss of the Season
Bell scores career-high 23 points in loss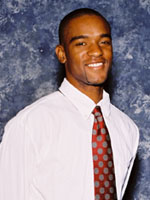 Fred Bell scored a career-high 23 points on Friday at Beloit.

BELOIT, WI - After winning their first four Midwest Conference games of the season, the Lake Forest College men's basketball team was finally dealt its first league loss on Friday (January 11th) at Beloit. The 96-81 loss dropped the Foresters' overall record to 7-5 and their MWC mark to 4-1.

Junior guard Fred Bell (Mequon, WI/Homestead) led the visitors with a career-high 23 points. Bell shot 7-for-10 from the floor, 3-for-5 from three-point range, and 6-for-6 from the free throw line. Senior guards Bryan Bertola (Green Bay, WI/Bay Port) and Brian Bruha (Hillsboro, WI/Hillsboro) also connected three times each from behind the arc en route to scoring 13 and 11 points, respectively. Lake Forest made 11 of 24 attempts from long range.

The team stats for the game were nearly even between the two squads, with Beloit holding a slight edge in most categories. Lake Forest shot 53.6% from the field, while the Buccaneers shot 55.7%. The Foresters were 11-of-24 from three-point range, but Beloit was a little better at 12-of-25.

The Buccaneers took an early 11-4 lead before Lake Forest rattled off 12 straight points. The Foresters led 23-22 midway through the half before scoring nine points in a row to go ahead by 10. Beloit battled back and tied the score at 39 before the visitors scored the final five points of the half.

Lake Forest led by seven (58-51) with 14 minutes to play before the Bucs scored seven straight to tie the score. The final Forester lead was 64-63 with just over 10 minutes left. Beloit outscored the guests 33-17 the rest of the way to claim the victory.

Ripon College will travel to Lake Forest tomorrow (January 12th) to take on the Foresters. Both teams have just one loss in conference play this season.
---