Lake Forest College Sports Information
January 11, 2003
Contact: Mike Wajerski, SID
Foresters Record Conference Victory at Monmouth
Taylor falls just short of triple-double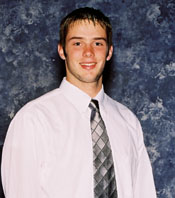 Lee Taylor was just three assists shy of a triple-double.

MONMOUTH, IL - The Lake Forest College men's basketball team ended its five-game losing skid with a 64-61 victory at Monmouth College Saturday (January 11). The triumph raised the Foresters' overall record to 2-8 and their Midwest Conference mark to 1-2. Monmouth fell to 3-6 overall and 0-2 in the league.

Senior guard Lee Taylor (Sheldon, IA/Sheldon) led the visitors with 15 points, 10 rebounds, and 7 assists. He also added a blocked shot and a steal and did not commit a turnover in 28 minutes of play.

The only other Forester in double figures was freshman forward Franklyn Beckford (Jacksonville, IL/Jacksonville) with 14 points. Beckford shot 6-for-10 from the field and pulled down nine rebounds. Senior forward Tim Andris (Port Washington, WI/Port Washington) scored seven points, grabbed seven rebounds, and added four steals.

Lake Forest shot 41.0% from the floor while Monmouth connected on 38.2% if its field goal attempts. The Foresters outrebounded the Fighting Scots 41-33. Both teams committed 14 turnovers.

A 10-0 run by Monmouth gave the home team a 21-10 lead with nine-and-a-half minutes to play in the first half. The margin fluctuated between seven and 11 points the rest of the period, which ended with the Foresters trailing by nine (33-24).

The lead was 14 points (42-28) early in the second half before Lake Forest rattled off 10 straight points. Back-to-back three pointers gave the Foresters a 48-46 lead with just under nine minutes remaining, their first advantage since the score was 5-4. Monmouth tied the score four times before finally taking a one-point lead (59-58) with 2:57 to play. However, the visitors' defense held the Scots to just two points the rest of the way to claim the three-point victory.

Lake Forest will be back on the road next weekend (January 17-18) with a game at Carroll College on Friday (7:30 p.m.) and another at Lawrence University on Saturday (2:00 p.m.). The team's next home game will be the following Tuesday (January 21) against Knox College.
---