Lake Forest College Sports Information
January 12th, 2001
Contact: Scott Rucker, SID
Rebounding Edge Gives Lake Forest 61-55 Win Over Beloit
Foresters off to best start since 1976-77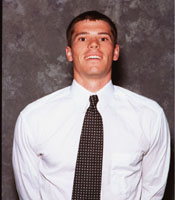 Bryan Bertola made 4 of 6 three-point shots and scored all 13 of his points in the second half against Beloit.

LAKE FOREST, IL - The Lake Forest College men's basketball team extended it's Midwest Conference regular season winning streak to 20 games Friday (January 12th) with a hard-fought 61-55 victory at home against Beloit College. At 9-1, this year's team has matched the 1976-77 squad for the best start to a season since the 1914-15 Foresters went 12-1 for the entire year.

Lake Forest trailed 13-8 just over 10 minutes into the game but went on a 19-6 run to close the half with a 27-19 lead. The Foresters led by as many as 13 early in the second half but Beloit cut the lead to 2 points (45-43) with 4:36 remaining. At that time junior guard Bryan Bertola (Green Bay, WI/Bay Port) took over, making 3 three-pointers during a 10-3 Lake Forest run over the next 2:18. Bertola finished the game with 13 points and made 4 of 6 from three-point range.

Beloit was unable to get any closer than 5 point the rest of the way and Lake Forest made 4 of 5 free throws in the final 30 seconds to seal the victory.

In a game that featured the top two field goal percentage defenses in the MWC, it's no surprise that the winning team was the one with more rebounds as Lake Forest held that edge 52-41. Sophomore guard Lee Taylor (Sheldon, IA/Sheldon) led the Foresters with 13 boards to go with his 7 points and game-high 7 assists. The Foresters shot just 35.9% from the field but held Beloit to a paltry 30.4% field goal shooting performance.

Senior center J.R. Jurecko (Libertyville, IL/Libertyville) and sophomore forward Evan Powers (Bondurant, IA/Bondurant-Farrar) each recorded double-doubles in the game. Jurecko scored a game-high 15 points and pulled down 11 rebounds. Powers also reached double-figures in points and rebounds with 13 and 11, respectively.

The defending Midwest Conference champions are now 4-0 in the league and will travel to Ripon College tomorrow (January 13th) for a showdown with last year's MWC tournament champions, beginning at 4:00 PM.
---