Lake Forest College Sports Information
January 12th, 2002
Contact: Mike Wajerski, SID
Foresters Drop to 4-2 in MWC With Loss to Ripon
Bruha scores game-high 21 points in just 20 minutes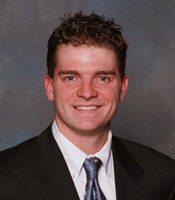 Brian Bruha shot 5-of-6 from three-point range and scored a season-high 21 points.

LAKE FOREST, IL - Despite a furious comeback effort, the Lake Forest College men's basketball team suffered its second setback of the weekend on Saturday (January 12th), a 78-73 loss at home to Ripon College. The Foresters fell to 7-6 overall and 4-2 in the Midwest Conference.

Senior guard Brian Bruha (Hillsboro, WI/Hillsboro) was the team's outright leader in scoring for the first time this season. His game-high 21 points came on 8-of-10 shooting from the floor, including 5-of-6 from three-point range. Bruha also added four steals in just 20 minutes of play.

Freshman forward Eric McDonald (Elk Grove, IL/Elk Grove) scored 13 points on 6-of-10 shooting and added five rebounds. Junior guard Lee Taylor (Sheldon, IA/Sheldon) scored 11 points and led the team with nine rebounds and four assists. Taylor ranks second in the MWC with 9.0 rebounds per game and third with 5.2 assists per league contest.

For the second straight day, the Foresters lost despite having similar team stats as their opponent. Lake Forest shot 45.5% from the field while Ripon shot 48.2%. The home team was better at three-point shooting, 40.9% (9-22) to 32.0% (8-25). The Redhawks held a slight edge in rebounding, 32-31, and connected on 80% (16-20) of their free throws while the Foresters made just 14 of 23 attempts (60.9%).

Lake Forest led (3-0) for just 20 seconds during the entire first half, but kept the game close until an 8-1 run by the visitors gave them a 21-13 lead. The margin grew to as many as 12 points (30-18) before the Foresters outscored Ripon 7-1 over the final three minutes of the period to cut the lead to just four points (34-30) at halftime.

After a pair of Lake Forest free throws to open the second half, the Redhawks scored nine straight points to go ahead by 11. They led by as many as 13 points and by as few as just one during the first twelve minutes after intermission. With the score 63-56 in favor of Ripon and with just over seven minutes left on the clock, the Foresters began a 17-6 run over the next four-and-a-half minutes that gave them a four-point lead. Bruha scored 13 of those 17 points and added a pair of steals during that span. Ripon recovered, however and scored the game's final nine points to take home the victory.

Next on the Foresters' schedule are the Green Knights from St. Norbert College, who are still undefeated (5-0) in MWC games. Lake Forest will play at St. Norbert on Friday (January 18th) and at Lawrence University on Saturday (January 19th).
---