Lake Forest College Sports Information
January 15, 2004
Contact: Mike Wajerski, SID
Franklyn Beckford Named Forester Athlete of the Week
Sophomore totaled 46 points and 23 rebounds in two MWC games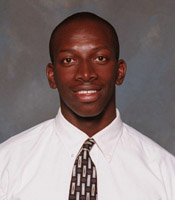 Franklyn Beckford helped the Foresters improve to 3-1 in the Midwest Conference.

LAKE FOREST , IL - Lake Forest College men's basketball player Franklyn Beckford (Jacksonville, IL/Jacksonville) was named Forester Athlete of the Week after he recorded back-to-back double-doubles (points-rebounds) to lead his team to two Midwest Conference victories.

In a 58-54 home win over Monmouth College (January 8) Beckford scored 11 of his team's first 14 points en route to a 22-point, 12-rebound performance.

His dominance continued Tuesday (January 13) at Knox College as Lake Forest outscored the Prairie Fire 81-67. The 6-4 forward tallied 24 points to lead the Foresters in scoring for the fourth consecutive game and grabbed 11 boards to register the team high in rebounding for the ninth time in eleven games.

Beckford reached his totals with impressive shooting percentages. The Foresters' leading scorer this season was 9-for-13 from the field in each contest (69.2%) and made 10 of 14 free throws (71.4%) in the two combined. He raised his field goal percentage on the season to .655.

The Forester Athlete of the Week is chosen by the Athletic Department on Thursdays.
---