Lake Forest College Sports Information
January 17, 2006
Contact: Mike Wajerski, SID
Lake Forest Defeated by Last-Second Shot at Illinois College
Team falls to 3-4 in league play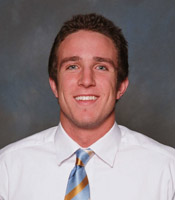 Greg Klos led the Foresters with 17 points on Tuesday.

JACKSONVILLE, IL - The Forester men's basketball team dropped a heartbreaking 57-55 decision at Illinois College Tuesday (January 17) night. Lake Forest is now 5-9 on the season with a Midwest Conference record of 3-4. Illinois College raised its overall record to 7-6 and its league mark to 3-3.

Senior guard Greg Klos (Carol Stream, IL/Glenbard North) led the visitors with 17 points and senior forward Franklyn Beckford (Jacksonville, IL/Jacksonville) also reached double figures with 10. Beckford shot 5-for-7 from the field and his eight rebounds were tied with sophomore Laird Walker (Chicago, IL/Whitney M. Young Magnet) for game-high honors. Senior guard Adesina Benton (Richton Park, IL/Argo) paced the squad with five assists.

Both teams shot nearly 47% from the floor. The Foresters were also 3-for-13 from three-point range and 6-for-9 from the free throw line. The Blueboys made five of 13 attempts from beyond the arc and eight of 10 from the line. Lake Forest held a 31-24 edge in rebounds but committed 12 turnovers, five more than Illinois College.

Lake Forest scored the game's first nine points and led by as many as 17 points (31-14) in the first half. The visitors' lead at intermission was 33-20.

Illinois College scored the first eight points of the second half and later tied the score at 39 with 12:29 remaining. The Foresters went back up by six but the Blueboys fought back and tied the score again at 46 and 48 and eventually took their first lead of the game (54-53) with 47 seconds left. Klos was fouled and made both free throws with sevens seconds on the clock. The home team, however, knocked down the winning three-pointer with just 1.3 seconds to play and stole the ball as time expired.

The Foresters will be back on the road Saturday (January 21) afternoon at Grinnell College. The game will begin at 3:00 p.m.
---