Lake Forest College Sports Information
January 17, 2009
Contact: Mike Wajerski, SID
Foresters Fall to Defending Conference Champions
Travis Clark leads Lake Forest with 16 points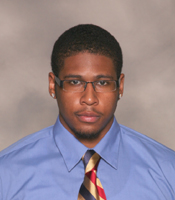 Travis Clark

LAKE FOREST, Ill. - The Lake Forest College men's basketball team fell 88-55 to visiting Lawrence University, the 2008 Midwest Conference champion, on Saturday (January 17). The Foresters are now 3-10 overall this season and 2-4 in league play. The Vikings raised their overall record to 9-4 and league mark to 5-1.

Lake Forest freshman post player Travis Clark (Evanston, Ill./Evanston) led the home team with 16 points on 8-of-12 shooting from the field. He was the only Forester to score in double figures. Fellow freshman post player Dayton Young (Muskego, Wis./Catholic Memorial) led the squad with five rebounds and junior forward Patrick Hanley (Plainfield, Ill./Plainfield) dished out a team-high four assists.

The Foresters shot 38.5 percent from the floor while the Vikings connected on 57.1 percent of their field goal attempts. Lake Forest also shot 9-for-23 from three-point range and 6-for-9 from the free throw line. Lawrence made 18 three-pointers in 29 tries and knocked down six of 13 foul shots. The visitors also held a 40-24 edge in rebounds and both teams committed 14 turnovers.

The game was tied at 10 before the Vikings broke it open with a 22-2 run. The visitors led by as many as 24 points during the first half and 45-23 at halftime after shooting 11-for-15 from beyond the arc in the period.

Clark made the first two baskets of the second half but the Foresters were out-scored 34-6 over the next 10 minutes as Lawrence put the game out of reach.

Lake Forest will continue league play on the road next weekend (January 23-24). The Foresters will travel to Ripon College for a 7:30 game Friday night and to Beloit College for a 4:00 p.m. contest on Saturday. Watch live video webcasts of all league games at www.midwestconference.tv.
---