Lake Forest College Sports Information
January 18th, 2002
Contact: Mike Wajerski, SID
Lake Forest Falls at First-Place St. Norbert
Foresters fall to 4-3 in MWC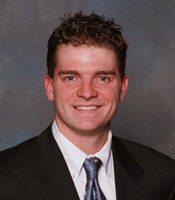 Brian Bruha led the team in scoring for the second straight game with 17 points.

DE PERE, WI - The Forester men's basketball team became St. Norbert's latest victim Friday (January 18th) night after suffering a 63-55 loss at the hands of the Green Knights. The defeat is the third straight for Lake Forest, who is now 7-7 overall and 4-3 in the Midwest Conference. St. Norbert remains undefeated in the league with a 7-0 record.

Senior guard Brian Bruha (Hillsboro, WI/Hillsboro) continued his hot shooting for the Foresters. He led the team with 17 points after connecting on exactly half his shots overall (6-of-12) and from three-point range (4-of-8). Bruha also added five rebounds, four assists, and a pair of steals.

Lake Forest shot just 37.8% from the floor, its lowest percentage since the first game of the season. St. Norbert was no more accurate, shooting only 35.8%, but held a 39-31 edge in rebounding. The Foresters made just 11 free throws in 18 attempts while the Knights connected on 19 of 26.

Lake Forest fell behind 7-0 but battled back and took the lead on three separate occasions during the first half, which ended with St. Norbert ahead, 27-25.

After more than two minutes of scoreless play to open the second half, the home team went on a 10-0 run to increase its lead to 12. That lead grew to 21 points with just 6:47 to play before the Foresters began to close the gap. An 18-4 run over the next six-plus minutes cut the margin to seven but Lake Forest would get no closer. St. Norbert made three of four free throws in the final minute to seal the victory.

The Foresters will travel to Lawrence University tomorrow (January 19th) afternoon for a 4:00 game. Next weekend they will host Carroll College on Friday (January 25th) night and have an opportunity to avenge this loss to St. Norbert on Saturday (January 26th) afternoon.
---